New Jersey Jr. Titans excited about NAHL tenders
January 31, 2012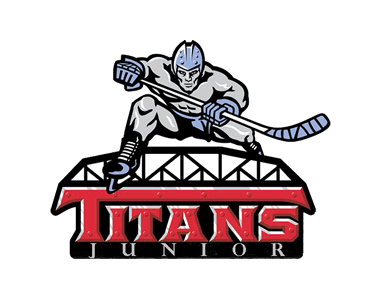 By: Tim Morris
Ice hockey has taken Farmingdale resident Trevor Heuser all over the country, but one place he never expected to be playing in was Corpus Christi, Texas. However, that Texas city is exactly where the 16-year-old hockey standout will be playing starting in August.
Heuser, who is a sophomore at Howell High School, has signed with the Corpus Christi IceRays of the North American Hockey League (NAHL). When Heuser signed the deal, he was 15 years old and was the youngster player in league history to be tendered a contract. Heuser, a defenseman, went to an NAHL open tryout in Albany, N.Y., where he caught the eye of the IceRays, who wanted him to join them for the 2011-12 season. He went to Corpus Christi last month and played in four games with the IceRays. "I got to experience the speed of the game and what I need to work on," he said.
Heuser also got to meet some of his future teammates and he learned that hockey is very popular in Texas. He said the Corpus Christi team receives a lot of support from the community and noted that the games are well attended. The IceRays wanted to sign Heuser for the remainder of the 2011-12 season, but after talking it over with his parents, they reached a decision. "We decided that at 15 it was a little early and premature to go out there this year," said Heuser.
The IceRays tendered him and own his rights for next season (2012-13), which will begin in August with training camp and the start of the school year in Texas. "We are excited to have Trevor sign with us for next year," IceRays head coach Justin Quenneville said in a press release. "He not only had the opportunity to showcase himself here for four games, but demonstrated many attributes that bode well for him next year in the lineup."
The IceRays play in the NAHL South Division with teams in Texas from Amarillo and Odessa, as well as teams from New Mexico and Kansas. The regular season is 62 games. Players like Hueser who are still in high school go to school until 1 p.m. and then head to practice or games.
Going to the NAHL is very big step for anyone, let alone a teenager who is still in high school. Not everyone would be up for moving away from home and making a full-time commitment to the sport at such a young age. "I love the game of hockey and I am willing to make the sacrifices," Heuser said. "Hockey is something I love and I want to go as far as I can in the sport."
Most important to Heuser, he has the backing of his parents, Bill and Christine. "They are the No. 1 supporters of my hockey career," he said.
When Heuser signed with the IceRays, his parents released the following statement, "We have and will continue to support his goals, dreams and passion for hockey and are excited about the opportunity he has been given."
Heuser knows this is an opportunity that will help him go as far as he can in the sport. "The level of play is phenomenal," he said. "I'll get exposure to colleges and NHL scouts. The coaching is phenomenal and the organization is professionally run."
He will be playing alongside teammates who have the same goal he has. "Everyone has the same goal: to ride the wave as far as it can take you," he said.
Heuser is currently playing with the New Jersey Junior Titans, who play their home game at Howell Ice World, just two minutes from his Farmingdale home.
George Haviland Jr., his coach with the Junior Titans, said he believes Heuser has a bright future. "Trevor's got a physical presence on the ice," Haviland said. "He makes good decisions, works hard and competes." Haviland said he believes the teenager is a future NHL prospect.
Heuser began his hockey career as a forward, but was moved to defense by coaches because he can skate backward so quickly. That skill makes him a force on defense because he can recover and get back behind the blue line quickly to thwart breakouts.
When Hueser says he "loves" hockey, he means it. In addition to hockey he has played soccer and Pop Warner football. "I gave them both shots," Heuser said, adding that when it came time to make a choice between soccer or football and hockey, it "wasn't even close. I love the thrill, the speed of the game (hockey) and how fast it is."
Heuser is not the only Titans player heading to the NAHL next season. Howell resident Matt Armenti will travel 4,000 miles to Fairbanks, Alaska, to play for the Ice Dogs.
Like Heuser, Armenti knows it is something he has to do even if it takes him far away from family members and friends. "All my friends joke about it," Armenti said. "The way I look at it, it's two years out of my life that I'll spend in Alaska. It will be an experience. I'm doing it for hockey. It's a hockey decision."
Armenti said his "ultimate goal is to play (NCAA) Division I (college) hockey," and he said playing in the NAHL will give him the best chance to achieve his goal.
Armenti said he has talked to players on the Ice Dogs who told him that "the fans love you up there. You're treated like a star." And the team is a winner, having won the NAHL championship last year.
Armenti is a 2011 graduate of Red Bank Catholic High School. He was the captain of the RBC team that won the Shore Conference championships last season. He will attend classes at a junior college in Fairbanks during the day before going to practice or a game.
The Ice Dogs play in the NAHL's West Division with teams from British Columbia, Canada (Dawson Creek Rage), California (Fresno Monsters) Washington (Wenatchee Wild) andAlaska (Kenai River Brown Bears andAlaskaAvalanche inWasilla).
Armenti also plays for the Junior Titans.
"Matt is the most dynamic player in the NAPHL (the North American Prospects Hockey League the Titans play in)," said Haviland. "He's the lead defenseman."
It was through an NAPHL tournament in Minnesota that Armenti was first spotted by representatives of the Ice Dogs. He signed with the team in November and was tendered for the 2012-13 season.
Having two players in the NAHL is quite a feat for the Junior Titans.
"It's fantastic for the program," said Haviland. "It's about the exposure and opportunities that we have given the guys."