18U leaders flex muscles on Day 2 in Pittsburgh
November 22, 2020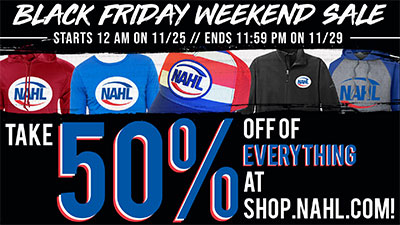 The sixth NAPHL event of the 2020-21 season continued on Saturday, November 21st at the Pittsburgh Ice Arena in Pittsburgh, PA. NAPHL 18U and 16U Central and East Division teams were in action and the day featured plenty of scoring and offense. The 18U leaders of CarShield AAA, Meijer AAA, and the Esmark Stars all won two games on Day 2 as they continued to lead the way in the 18U Division standings. Day 3 on Sunday is the final day of the event as teams get in one final game.
Now in its 12th season, no other USA Hockey youth league does more for its players than the NAPHL. Operated by the full-time staff of the North American Hockey League (NAHL), who make it their mission to outperform others both on and off the ice in promoting its players. The NAPHL has proved over the years that the league is a great stepping-stone for development and training for young hockey players looking to gain experience and knowledge to work their way up to the National level.
The NAPHL continues to monitor local and federal guidelines and will follow the recommendations in place. Even with everyone's participation, the NAPHL cannot eliminate all risk associated with Covid-19. By choosing to participate, players and guests are assuming the risk of contracting Covid-19 at the event. With that said, we need everyone's cooperation and commitment to follow the Return To Play guidelines as outlined by the Pittsburgh Ice Arena. A few of those guidelines are listed below but it is important that you become familiar with all of the Return To Play guidelines: Read Here
Two (2) spectators per player enter at game time (NO GATE FEE)
Everyone must wear a mask upon entrance to the arena
Players may enter the arena 15 minutes prior to game
Players and spectators must exit the facilities one the game ends
For those who will not be attending, all NAPHL games will be broadcast live on HockeyTV by selecting the Elite Package.
*Schedules subject to change
Download the NAHL App to keep up to date with NAPHL scores (iOS - Google Play)
NAPHL merchandise will be on sale during the event. NAPHL merchandise is sold exclusively and only at NAPHL events and features the hottest and newest styles of sweatshirts, t-shirts, shorts, hats, and more!
Food Trucks: Throughout the weekend during the NAPHL event in Pittsburgh, food trucks will be offering a variety of tasty food that you can enjoy for lunch or dinner. It's a fun experience, so ENJOY! Here are some of those scheduled to be on site:
Kona Ice
Java Jeffrey Coffee
Day 2 Recaps
18U Division: The 18U division picked up in quantity on Saturday, featuring eight games on day two. The day opened with a 5-2 Carshield win over Cleveland, thanks to a three-goal second period for the winning squad. Esmark then rolled over Florida Alliance in an 8-2 decision, a win that featured two goals from John Camp and 24 saves from Ethan Isaly. Carter Schram then led Meijer to a 1-0 win over Tri-State as he notched the game's only goal, before Philadelphia thumped the Skipjacks in a 6-1 win later on. In the second round of games, Cleveland bounced back with a 2-1 win over Tri-State on the back of Ty Ulanowicz's third-period game-winner. Carshield toppled Florida Alliance 6-2 with five goals in the final 40 minutes, followed by Esmark's dismantling of the Skipjacks in a 9-1 victory. Finally, Meijer joined Carshield and Esmark at 2-0 on the day, knocking off Philadelphia 4-2 in a back-and-forth contest.
16U Division: Another four games highlighted the 16U Saturday slate. Florida Alliance got things going with a 5-2 win over Esmark, riding a 2g-2a effort from Jake Richard to victory. Tri-State then edged out Philadelphia 3-2 after holding off a late comeback bid, and Carshield shut down the Skipjacks 4-0 thanks to a 22-save shutout by Brady Govero. Capping off the day's action, Meijer won a thriller over Philadelphia 5-4. The Little Flyers jumped out to a 2-0 lead through 20, but Meijer would not be denied, scoring twice in the second and three times in the third to take the win.