NAPHL enters final day of event in North Texas
November 16, 2020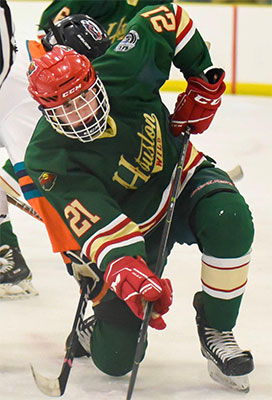 Day 3 of the NAPHL in Texas had a lot of action in four facilities. The Showcase Division teams were on full display for the final time during the event as the 18U, 16U, and 14U divisions were in action. In addition, the Tier 1 conference continued play as did the 15U Division. Day 4 is the final day of action on Monday as the Tier 1 conference plays in the morning in Frisco and McKinney.
NAPHL merchandise will be on sale during the event at the StarCenter in McKinney. NAPHL merchandise is sold exclusively and only at NAPHL events and features the hottest and newest styles of sweatshirts, t-shirts, shorts, hats, and more!

Important scheduling note: Because of the ongoing Covid-19 situation and teams that are unable to participate, there have been alterations to the original schedule. We appreciate your patience as we work diligently to reschedule various games as quickly as possible.
Now in its 12th season, no other USA Hockey youth league does more for its players than the NAPHL. Operated by the full-time staff of the North American Hockey League (NAHL), who make it their mission to outperform others both on and off the ice in promoting its players. The NAPHL has proved over the years that the league is a great stepping-stone for development and training for young hockey players looking to gain experience and knowledge to work their way up to the National level.
The NAPHL continues to monitor local and federal guidelines and will follow the recommendations in place. Even with everyone's participation, the NAPHL cannot eliminate all risk associated with Covid-19. By choosing to participate, players and guests are assuming the risk of contracting Covid-19 at the event. With that said, we need everyone's cooperation and commitment to follow the Return To Play guidelines as outlined by the NAPHL and the Children's Health StarCenters in Farmers Branch, Frisco, McKinney, and Plano. A few of those guidelines are listed below but it is important that you become familiar with all of the Return To Play guidelines: Read Here
No spectator limit (NO GATE FEE)
Spectators enter the arena at game time and exit immediately following the game
Everyone must wear a mask upon entrance to the arena
Players may enter the arena 15 minutes prior to game and exit the arena no later than 10 minutes following the game
For those who will not be attending, all NAPHL games will be broadcast live on HockeyTV by selecting the Elite Package.
18U Tier 1 Schedule / 18U Showcase Division Schedule
16U Tier 1 Schedule / 16U Showcase Division Schedule
15U Tier 1 Schedule / 14U Showcase Division Schedule
*Schedules subject to change
Download the NAHL App to keep up to date with NAPHL scores (iOS - Google Play)
Day 3 Recaps
18U Division: The 18U division saw 10 games on the penultimate day of the Texas showcase. Affton and Arizona Mission got things started with a tight game that went to the Americans by a 3-2 margin, Cherry Creek netted two in the third for a 2-1 comeback victory over Tahoe, Littleton hammered Arizona Hockey Union for an 8-0 win, the Texas Tigers steamrolled Tri-Valley 8-2 and the Chicago Hawks' three-goal second period pushed them to a 3-2 win over Clearwater. Later on, Dallas nosed past Ontario 2-1, Chesterfield's two third-period goals guided the Falcons past Rose City 3-2, Dallas Stars Elite romped to a 7-1 win over West Coast, Northwest took a tense 5-4 win over Colorado Springs and the Bobcats wrapped things up with a 3-1 decision against Ontario.
16U Division: The 16U division saw the most games on Sunday, with 14 matchups scattered throughout north Texas. McKinney AA kept the strong local showing going well with a 3-0 shutout of Arizona Mission to start the day, followed by California's 3-1 win over Chesterfield and West Coast's 5-1 victory against Northwest. McKinney A then dropped Arizona by a 6-1 margin with a four-goal third period, Clearwater cruised past Atlanta 4-0, the Texas Tigers handed Clearwater 15U a 9-1 defeat and Vegas held off Ontario for a 3-1 win of their own. In the back half of the day, PHA found a late winner to knock off Anaheim 2-1, Dallas flexed some muscle to beat Hyland Hills 8-1, the Jr. Brahmas edged out the Chicago Hawks 3-2 and Littleton tallied three in the final 40 for a 5-2 win over Park City. Drawing the day's events to a close, Ontario ousted Colorado Springs 4-3 in an OT thriller, Northwest picked up a 3-2 win over Arizona and Madison topped West Coast 4-3 in overtime.
15U Division: Just two games highlighted the 15U division on Sunday. The Bobcats rolled past Northwest 5-1 in the first tilt, with five different scorers lighting the lamp. Madison one-upped Arizona in the later game, dropping Northwest by a 6-1 margin in their matchup. Wyatt Farrell and Owen Meyer led the way for the Capitols with two goals apiece.
14U Division: Sunday saw the 14U action come to a close with five games on the slate. Houston stayed perfect on the weekend with another win on Sunday, knocking off Atlanta 3-2. Rose City capped off its Texas trip on a high note with a 4-0 shutout of Anaheim, thanks to Joe Lawrence's hat-trick and Eric Vargas' 13-save effort. Vegas had its attack running smoothly in a 12-3 win over the Bobcats, with four different skaters notching multiple goals, while Dallas rode a three-goal second period to a 4-2 win over Ontario. Finally, Littleton and Park City put on an OT thriller that went to the Hawks, 3-2, after Cain Whitmore bagged the tying and winning goals.