NAPHL alum Swayman signs deal with NHL's Bruins
March 18, 2020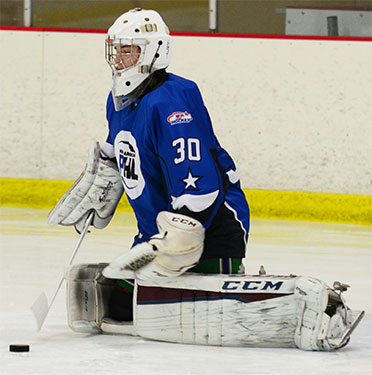 The Boston Bruins of the National Hockey League (NHL) have announced they have signed former North American Prospects Hockey League (NAPHL) and University of Maine goaltender Jeremy Swayman.
Jeremy Swayman, the college puckstopper who had a glittering career at Maine, will skip his senior year with the Black Bears and turn pro with the Bruins.
Swayman, 21, signed with the club that drafted him in the fourth round (111th overall) in 2017.
The Anchorage, Alaska product learned earlier in the week that he also won the Walter Brown Award as New England's top American-born college player. He is the first Black Bear to win the award since Mike McHugh in 1988. He is one of three finalists for the Hockey East player of the year award.
The Bruins have watched him compete at their last three development camps at Warrior Ice Arena. He is likely to start his pro career with AHL Providence, when the sport resumes.
Swayman, listed at 6 feet, 3 inches and 200 pounds, lifted Maine (18-11-5) to a fourth-place finish in Hockey East, four spots ahead of their predicted finish in the preseason coaches' poll.
He ranked second in Division I with a .939 save percentage, which was second-best in school history, and 15th in goals against average (2.07, fourth-best dating to 1977-78). No one made more saves (1,099, a school record) and only four goalies played more minutes (2,060).
He departs as Maine's all-time leader in saves (3,130) and minutes played (5,906:46). His save percentage (.927) ranks second behind Red Wings goalie Jimmy Howard (.931). He is fifth in GAA (2.51).
Swayman played the entire 2015-16 season in the NAPHL for the Pikes Peak Miners 18U team. In 18 regular season games played, Swayman posted a 9-8-1 record with a 1.79 goals against average and a 94.0% save percentage. His four shutouts tied for the NAPHL 18U lead and he ranked 3rd in save percentage. Swayman also was selected to and played in the 2015-16 NAPHL 18U All-Star Game in Troy, Michigan.