NAPHL event in New Jersey moves on to final day
January 26, 2020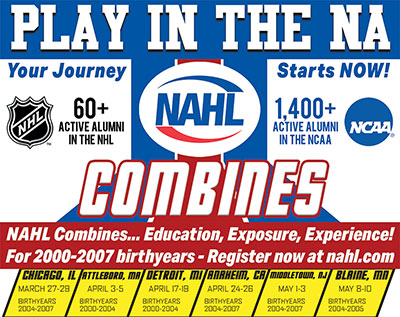 The final regular season event of the 2019-20 NAPHL season continued with Day 2 on Saturday in Middletown, New Jersey with all 18U and 16U east teams taking to the ice once again
Teams from the NAPHL's East Division in addition to various guest teams will be in action as the NAPHL Dixon Cup Playoffs are just a few weeks away in Detroit, Michigan.
All games this weekend are played at Middletown Ice World, home of the NAHL's New Jersey Titans. After the final games on Sunday, the NAHL will return to New Jersey on May 1-3 for a 16U and 14U Combine. To sign up for one of the six NAHL Combines, click here.
All games will be broadcast live on HockeyTV
Download the NAHL App to keep up to date with NAPHL scores (iOS - Google Play)
18U Division:
Seven contests highlighted the second day of 18U play in New Jersey.
Starting the day, Seacoast won a tight one against New Hampsire 4-3 thanks to Tyler Toohey's third-period strike, IHA Calgary rolled over 95 Giants 7-1, Florida Alliance rode Blake Valli's 19-save shutout past East Coast 5-0 and Philadelphia hammered Connecticut 4-1.
From there, New Jersey thumped Seacoast 8-3 and Northeast came out on top 6-4 in a barnburner against IHA Calgary.
16U Division:
The 16U division saw four matchups on Saturday.
95 Giants opened the day with a 4-2 win as they held off Northeast and New Hampshire edged out Pittsburgh 4-3 after Aiden Brenner's game-winner.
Later on, New Jersey knocked off Pittsburgh 5-3 after an impressive three-goal third period comeback and New Hampshire topped 95 Giants 7-2.