Final NAPHL regular season event takes place in New Jersey
January 24, 2020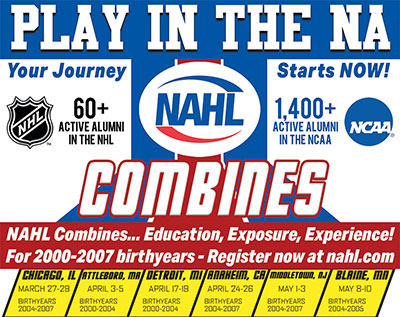 This weekend marks the final event of the 2019-20 NAPHL regular season as the league heads east to Middletown, New Jersey for a weekend of action on Friday, Saturday, and Sunday.
Teams from the NAPHL's East Division in addition to various guest teams will be in action as the NAPHL Dixon Cup Playoffs are just a few weeks away in Detroit, Michigan.
All games this weekend are played at Middletown Ice World, home of the NAHL's New Jersey Titans, who will be in action on Friday and Saturday night against the Johnstown Tomahawks.
All games will be broadcast live on
HockeyTV
Download the NAHL App to keep up to date with NAPHL scores (iOS - Google Play)
The NAPHL has enjoyed a record-breaking amount of advancement in recent seasons, which is highlighted by a large amount of advancement of players to the North American Hockey League (NAHL). No other USA Hockey Midget Tier I league has had more players play in the NAHL over the course of the last three seasons than the NAPHL. The NAPHL is the only youth league that has an exclusive NAHL tendering system available only to NAPHL players.
So far during the 2019-20 season, 25 current NAPHL players have signed NAHL tenders and over 80+ NAPHL alumni are currently playing in the NAHL.
During the past three years, 160+ NAPHL players have signed an NAHL tender or been drafted into the NAHL, which is a testament to the success of the NAPHL to NAHL Ladder of Development model. In addition, a total of 28 NAPHL alumni have been selected in the last seven NHL Drafts.