NAPHL crowns five champions on Sunday
January 20, 2020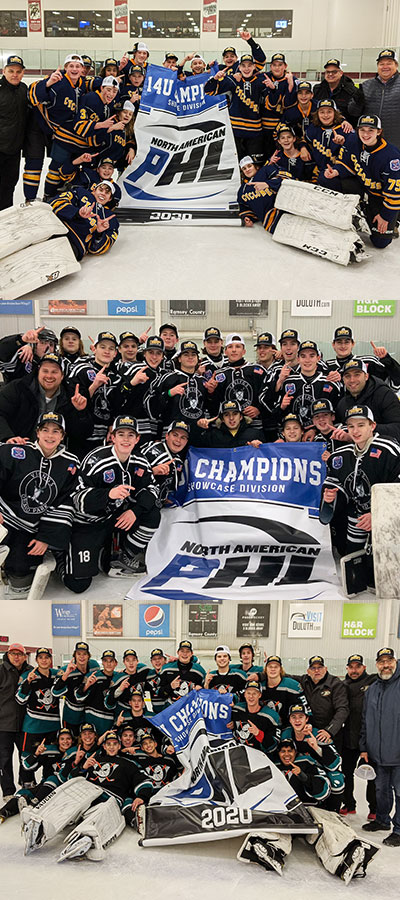 The NAPHL crowned five champions on Sunday as the first of two league Championship weekends continued at the NSC Super Rink in Blaine.
Teams in the 18U, 16U, and 14U Showcase Divisions took to the ice to see who would come out on top and raise a banner. The NAPHL awarded Gold Division Championships in the 18U, 16U, and 14U Divisions and Silver Division Championships in the 18U and 16U Divisions.
The NAPHL's 18U Elite Division, Prep Division, and 15U Division will in action on Monday for the final day of the event.
All games will be broadcast live on
HockeyTV
Download the
NAHL App
to keep up to date with NAPHL score
s
(
iOS
-
Google Play
)
Day 3 recaps:
18U Showcase Division
A full slate awaited the 18U division on Sunday, with both Gold and Silver division champions crowned.
The Gold Division featured two tightly-contested semi-final matchups, as Highland Park won by a nose against Geneva, 5-4 in OT, and Anaheim edged out the Chicago Bruins 3-2 after Forrest Musselman's late winner. In the final, it was all Anaheim, as they responded to an early deficit with four unanswered strikes for a 4-1 win over Highland Park to take the division crown.
In Silver play, McKinney blitzed past Clearwater in the final frame for a 4-2 win and Naperville topped Orland Park 2-1 in a lengthy shootout to set up the final. Naperville's offense proved too strong in the final, however, as they pulled away late for a 3-1 win over McKinney.
Elsewhere in 18U action, South Florida knocked off Affton 5-3, Park City outlasted Chicago Hawks 1-0 in OT, Arizona Mission picked up a 4-3 victory against West Dundee, Northstar strolled past Arizona 3-0 and Colorado Springs notched a 6-2 decision against Florida Alliance, Thunder Bay handled Ontario 6-1 and Shattuck St. Mary's stomped out Portland 7-1.
From there, Dallas outgunned Chesterfield in a wild 7-4 affair, Arizona Hockey Union jumped past Vernon Hills 4-1, Arizona held off Portland 6-4, Colorado Springs dealt Northstar a rare 3-1 loss thanks to Keaton French's 38-save effort Thunder Bay put forth a strong effort in a 4-1 win over Florida Alliance, Shattuck St. Mary's potted the lone goal in a 1-0 win over Tri-State and Ontario ended the night with a 2-1 win over Fountain Valley in a crossover contest.
Prep Division
Prep action again heated up on Sunday, with teams twice hitting the ice.
Prairie opened the day with a 3-1 win over Valor, Tahoe handled Tri-State 6-2, Fountain Valley Dispatched Pilot Mound 2-0, ST. Mary's rolled over Tampa EDP 6-3, TRC dropped Clearwater Prep 3-1 and Pacific Ridge trounced Fernie 6-2.
In the later round of games Prairie escaped past Tahoe 4-3 in OT, Valor shut the door on Pilot Mound 4-0, Pacific Ridge dropped Clearwater 4-2, TRC handled Tampa EDP 4-2 and Fernie ended the night on a 4-1 victory against St. Mary's.
16U Showcase Division
Semi-final and final action highlighted the 16U day as well, as Gold and Silver winners were decided on Sunday.
In the Gold action, Geneva eased past Northern 3-2 after a late winner and Orland Park thumped Naperville 3-0. The Gold final came down to a shootout after teams remained deadlocked through 60, where Brock Greene netted the winner to give Orland Park the title.
Silver action saw Chesterfield drop Ontario 6-1 in the first semi-final and the Chicago Hawks slip past Nashville 2-1 in OT later on. Chesterfield then knocked off the Hawks 5-2 in the final on the back of Anthony Conti's pair of goals.
The consolation games early in the day also featured plenty of action. The Chicago Jets kicked things off with a 3-2 win over West Dundee, Clearwater followed with an 8-1 drubbing of Arizona, Lansing steamrolled Arizona Mission 6-1 and DYHA rode three third-period goals to a 5-3 win over Park City.
Soon after, Highland Park dropped McKinney 5-1, Affton slammed the door on Central Florida 5-0 and Vegas did the same to Texas to earn a 5-0 win of their own.
15U Division
High-scoring contests dominated the five 15U games on Sunday. Florida Alliance set the tone with a 9-1 win over Madison 16U, Arizona followed with a 3-1 decision against Everett and Thunder Bay held off Carshield for a 4-2 win.
In a more tense affair, Esmark needed overtime to get past Sioux Falls 3-2 after a flurry of goals at the end of regulation. Finally, Meijer handled Colorado Springs 4-1 to close out the day.
14U Showcase Division
The 14U Showcase Division champion was also decided on Sunday after some thrilling matchups.
After McKinney handled Atlanta and Geneva dropped Chicago Jets by identical 5-2 scorelines in the semis, the two faced off in the final, where Geneva dominated play. The Cyclones took home a 7-2 win in the deciding contest, thanks to a clutch hat-trick from Daniel Perillo IV.
In the consolation contests, Nashville edged out Arizona 2-1, Ontario shut down Vegas 3-0 and South Florida cruised past Northwest 6-2.