NAPHL readies for Championship Sunday
January 19, 2020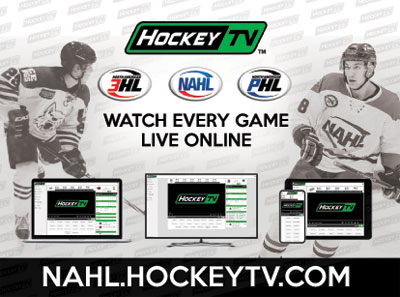 It was moving day and selection day on Saturday, as the NAPHL continued the first of two Championship weekends in Blaine, Minnesota, at the NSC Super Rink.
Teams in the 18U, 16U, and 14U Showcase Divisions took to the ice to see who would come out on top on Sunday.
This weekend, the NAPHL will crown its Showcase Division Champions in the 18U, 16U, and 14U age groups in the Gold and Silver Divisions. In addition, the NAPHL 18U Elite Division, Prep Division, and 15U Division will in action for their final event of the 2019-20 regular season.
All games will be broadcast live on
HockeyTV
Download the
NAHL App
to keep up to date with NAPHL score
s
(
iOS
-
Google Play
)
Day 2 recaps:
18U Showcase Division
18U hockey dominated the landscape on Saturday, as Gold and Silver division winners were decided and semi-finals were finally set.
Anaheim, Highland Park and the Chicago Bruins each won their respective divisions in Gold, with Geneva snapping up the wild-card position by beating the Bruins 4-2. Anaheim and Highland Park dropped Arizona Hockey Union 4-0 and Chicago Hawks 5-2, respectively, to take their division crowns. The Gold semi-finals will see Geneva take on Highland Park and Chicago Bruins battle Anaheim.
In Silver division play, McKinney dropped Affton 6-0 to stay perfect, Clearwater edged out Vernon Hills 3-2 in a shootout and Naperville cruised past Orland Park 5-2 to cement the semis. On Sunday, McKinney will take on Clearwater and Orland Park will again face Naperville to determine the 18U Silver finalists.
Elsewhere in 18U play, West Dundee slipped past Chesterfield 5-4 in a shootout, Park City dominated Arizona Mission 4-1, Dallas Penguins dumped South Florida 5-2, Colorado Springs rode a pair of third-period strikes past Ontario, 2-1, Tri-State did the same against Florida Alliance, Thunder Bay toppled Arizona 5-1, Arizona Hockey Union found a way past TRC 1-0 and Northstar put on a show to beat Shattuck St. Mary's 4-2.
Prep Division
In Prep play on Saturday, Tahoe and Portland need overtime to get past Valor 2-1 and Pacific Ridge 3-2, respectively.
Prairie held off Fountain Valley 3-1, Pilot Mound cut down Tampa EDP 5-1 and Fernie clobbered Clearwater Prep 5-1.
16U Showcase Division
The 16U playoff picture came clearer on Saturday, as the division winners and semi-final matchups were decided.
In the Gold Division, Geneva punched its ticket to the semis with a 6-0 win over Affton, followed by Orland Park topping Highland Park 4-1 and Northern Express handling Chicago Jets 2-0. West Dundee also earned a spot in the Gold semis despite dropping a 4-3 shootout decision to Naperville. Sunday's Gold semis will feature Geneva against Northern and Orland Park against Naperville.
The Silver semis were also set, as Chesterfield and Chicago Hawks defeated Nashville and Ontario, respectively. Those four teams will feature in Sunday's semis, with the Hawks taking on Nashville and Ontario dueling Chesterfield to decide a final matchup.
Elsewhere on Saturday, Park City edged Arizona Mission 2-1, Vegas shut out Lansing 5-0, DYHA topped Texas 2-1, Central Florida cruised past Clearwater 2-0 and McKinney thumped Arizona 7-0.
15U Division
The 10 Tier I teams in attendance at this event hit the ice on Saturday, with each team playing twice. Carshield kicked things off with a 3-0 beating of Arizona, Florida Alliance took down Everett 4-1, Thunder Bay knocked off Colorado Springs 4-1, Esmark dispatched Meijer 4-1 and Madison slipped past Sioux Falls 4-3 in a thrilling OT affair.
As the teams returned to the Super Rink for more hockey, Carshield managed to edge out Everett 4-3 in OT to move to 2-0 on the day, followed by Arizona rebounding to beat Madison 4-1. Florida stayed hot with a 4-0 win, Thunder Bay managed to grind out a 1-0 win over Meijer and Sioux Falls closed out the day with a 5-3 victory over Colorado Springs.
14U Showcase Division
Saturday set the table for 14U semi-final action as well.
Atlanta advanced with an 8-4 thriller against Vegas despite falling to Geneva 7-3 later in the day, McKinney escaped past Northwest 2-1 to earn its spot, Chicago Jets dumped Nashville 7-2 and South Florida 6-0 to prove their semi-final credentials and Geneva handled Nashville 4-2 in addition to its win over Atlanta to punch its ticket to Sunday's semis. Tomorrow morning will feature Atlanta against McKinney and Geneva against Chicago Jets to decide the 14U finalists.
In other 14U news from Saturday, Arizona put on a complete show to beat Ontario 4-1 and South Florida's offense exploded for a 7-3 win over Vegas.
Stay tuned to NAPHL.com and @NAPHL on Twitter and Instagram for updates from the deciding day for the Showcase Divisions!