First day of NAPHL Showcase Division Playoffs in the books
January 18, 2020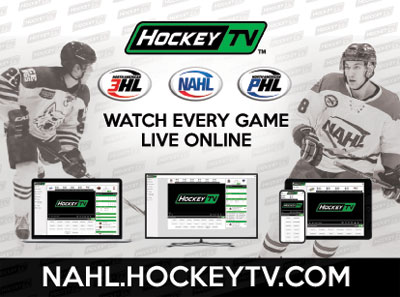 On a snowy Friday, the NAPHL face-off in the first of two Championship weekends in Blaine, Minnesota, at the NSC Super Rink.
Teams in the 18U, 16U, and 14U Showcase Divisions took to the ice to see who would come out on top on Sunday.
This weekend, the NAPHL will crown its Showcase Division Champions in the 18U, 16U, and 14U age groups in the Gold and Silver Divisions. In addition, the NAPHL 18U Elite Division, Prep Division, and 15U Division will in action for their final event of the 2019-20 regular season.
All games will be broadcast live on
HockeyTV
Download the
NAHL App
to keep up to date with NAPHL score
s
(
iOS
-
Google Play
)
Day 1 recaps:
18U Showcase Division
The 18U day began with a pair of shutouts, as Orland Park handled Clearwater 5-0 and McKinney thwarted Naperville 4-0. From there, Chicago Hawks edged out Arizona Mission for a 2-1 OT win, Anaheim outlasted West Dundee 4-3, Affton took down Vernon Hills in a tight 5-4 OT finish and Highland Park crushed Park City 9-1.
As the day carried on, Chesterfield was in cruise control during a 7-3 win over Arizona Hockey Union, Geneva and Chicago Bruins did the same to beat South Florida and Dallas Penguins by an 8-3 score in each game, Naperville took down Vernon Hills 5-2, Highland Park held off Arizona Mission 5-3 and Park City got past Chicago Hawks 2-1 in overtime.
Finally, West Dundee dispatched Arizona Hockey Union 3-1, Anaheim breezed by Chesterfield 6-2, McKinney toppled Clearwater 4-1, Orland Park took a 2-1 win over Affton in a shootout, Chicago Bruins took down South Florida 5-3 and the Dallas Penguins rode Conner Schaefer's four-minute hat-trick to a tense 4-3 win over Geneva.
16U Showcase Division
16U play opened with lots of action on Friday.
Opening the slate of 22 games, Nashville topped Park City 4-1, Ontario handled Arizona Mission 4-2, Northern slammed the door on Lansing 4-0, Chicago Hawks outmatched Chesterfield 4-1, Naperville knocked off DYHA 6-3 and Chicago Jets dispatched Vegas 4-3.
Continuing the day, West Dundee held off Texas 3-1, Orland Park rode a pair of late goals past Clearwater 3-1, Geneva thumped Arizona 9-1, Affton blitzed McKinney 6-1, Highland Park needed a Wyatt Teets hat-trick and OT game-winner to get past Central Florida 6-5 and Ontario slipped past Nashville 3-2.
Later, Chicago Hawks managed to beat Park City 2-1 in a tense affair, Chesterfield strolled past Arizona Mission 5-2, Northern outpaced Vegas 6-4, Chicago Jets dropped Lansing 4-1, West Dundee handled DYHA 5-3 and Naperville needed a shootout to get past Texas 2-1.
Closing things out in the night games, Highland Park cruised past Clearwater 8-1, Orland Park put up a touchdown in a 7-3 victory over Central Florida, Affton dominated Arizona 8-0 and Geneva shut out McKinney 4-0.
14U Showcase Division
It was a light day in the 14U division playoffs, with just seven games on the docket.
Starting things off, Northwest shut down Ontario for a 1-0 shutout, McKinney rolled over Arizona 6-1, Geneva dropped South Florida 5-1 and Vegas managed to outlast Nashville for a 4-3 OT win.
Later on, Chicago Jets edged Atlanta 4-2, Northwest tallied another win with a 5-2 victory over Arizona and McKinney moved to 2-0 as they topped Ontario 6-2.
Stay tuned for more updates and possibly a clearer championship picture for all divisions after day two!