NAPHL Showcase Division Championship begin Friday in Blaine
January 16, 2020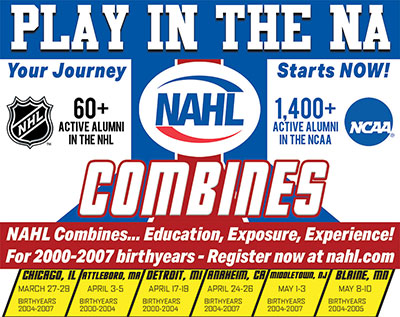 It is the first of two Championship weekends for the NAPHL this weekend in Blaine, Minnesota, from January 17-20 as the 2019-20 season rolls on at the NSC Super Rink.
This weekend, the NAPHL will crown its Showcase Division Champions in the 18U, 16U, and 14U age groups in the Gold and Silver Divisions. In addition, the NAPHL 18U Elite Division, Prep Division, and 15U Division will in action for their final event of the 2019-20 regular season.
Congratulations are in order for the following conference regular season winners: 18U National-Dallas Penguins, 18U CSDHL-Chesterfield Falcons, 16U National-Vegas Golden Knights, 16U CSDHL-Geneva Cyclones, 14U-Chicago Jets.
All games will be broadcast live on HockeyTV
Download the NAHL App to keep up to date with NAPHL scores (iOS - Google Play)
The NAPHL has enjoyed a record-breaking amount of advancement in recent seasons, which is highlighted by a large amount of advancement of players to the North American Hockey League (NAHL). No other USA Hockey Midget Tier I league has had more players play in the NAHL over the course of the last three seasons than the NAPHL. The NAPHL is the only youth league that has an exclusive NAHL tendering system available only to NAPHL players.
So far during the 2019-20 season, 24 current NAPHL players have signed NAHL tenders and over 80+ NAPHL alumni are currently playing in the NAHL.
During the past three years, 160+ NAPHL players have signed an NAHL tender or been drafted into the NAHL, which is a testament to the success of the NAPHL to NAHL Ladder of Development model. In addition, a total of 28 NAPHL alumni have been selected in the last seven NHL Drafts.