NAPHL event in Texas gets underway on Friday
November 15, 2019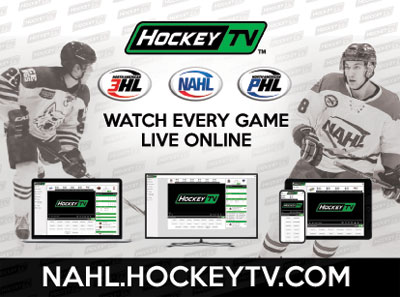 The North American Prospects Hockey League (NAPHL) gets right back into action this weekend with a big event in North Texas. Last weekend, the NAPHL was out East in Danbury, Connecticut with a showcase featuring 18U teams from the East Division.
This weekend, the NAPHL's 18U, 16U, and 15U Tier 1 High Performance and Elite Divisions will take to the ice in addition to the NAPHL's 14U Division in both the Tier 1 and Showcase Divisions.
All games this weekend will be played at one of three Children's Health StarCenter's in North Texas located in Frisco, McKinney, and Plano.
There will be no admission charge for the event in North Texas. All games will be broadcast live on
HockeyTV
It has been another great week for NAPHL players signing NAHL tenders. NAHL tenders became active on November 1st and 10 NAPHL players have already signed NAHL tenders to date. A tender is a contract, of sorts, a player signs announcing his intentions to play for that particular NAHL team and that NAHL team only. Once a player signs a tender with an NAHL team, his playing rights belong to that team within the NAHL and he may not be recruited by any other NAHL team. Each team is granted ten (10) tenders, which include two (2) tenders exclusively used on players from the NAPHL.
Download the
NAHL App
to keep up to date with NAPHL score
s
(
iOS
-
Google Play
)
For the 2019-20 season, the NAPHL will continue with a structure that features three different divisions. Teams were selected for the three different divisions based on USA Hockey Tier I, Tier II, or Prep/High School status. The NAPHL will offer four age classifications that will compete at the 18U, 16U, 15U, and 14U levels.
The NAPHL has enjoyed a record-breaking amount of advancement, which is highlighted by a large amount of advancement of players to the North American Hockey League (NAHL). No other USA Hockey Midget Tier I league has had more players play in the NAHL over the course of the last three seasons than the NAPHL.
Over 80+ NAPHL alumni began the 2019-20 season on NAHL rosters.
This past season, over 110+ NAPHL alumni played in the NAHL and over 225 NAPHL alumni played in the NCAA. During the past three years, 160+ NAPHL players have signed an NAHL tender or been drafted into the NAHL, which is a testament to the success of the NAPHL to NAHL Ladder of Development model. In addition, a total of 28 NAPHL alumni have been selected in the last seven NHL Drafts.