Fairbanks defenseman Woods makes NCAA D1 commitment
November 13, 2019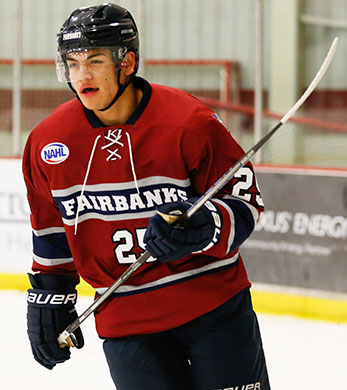 By Danny Martin, News-Miner
There was no pondering for NAHL and Fairbanks Ice Dogs defenseman
Trenton Woods
when he decided Monday to commit to the University of Alaska Fairbanks Nanooks.
"It was an easy decision," Woods, 20, said by phone Tuesday night.
Easy because two of his family members skated in the blue and gold uniform of the Nanooks, of the NCAA Division I Western Collegiate Hockey Association.
His brother, Justin, was a Nanooks defenseman from 2013-14 to 2017-18, when he also wore the captain's 'C' on his jersey. Justin is in his third season of professional hockey, skating with the Kansas City (Missouri) Mavericks of the ECHL. He also played for the Ice Dogs in 2011-12.
Scott Keyes, Trenton's stepfather, was a Nanooks forward from the 1990-91 to 1993-94 seasons.
The two former Nanooks have told the Nanook-to-be a few things to look forward to while he's playing with his hometown's Division I hockey program.
"First of all, the community — Fairbanks loves its hockey," Trenton said. "The Nooks are well known in Alaska, obviously, and it's just going to fun wearing the 'A' bear (the logo for the Nanooks), just like my family did.'"
Woods has compiled eight goals and 15 assists for 24 points in 100 career games for the Ice Dogs, of the NAHL's Midwest Division. Prior to arriving in the NAHL, Woods, like his brother, played in the NAPHL for the California Titans. In 22 NAPHL games during the 2016-17 season, Woods had 12 points.
Ice Dogs head coach Trevor Stewart, by phone Tuesday, said UAF head coach Erik Largen was well familiar with Trenton Woods, and not just because of the family connection to the Nanooks.
"They (UAF coaching staff) just like the way he's developed over the past three years," Stewart said. "Obviously, Erik Largen probably being the most familiar with the path of his development and being able to track it. Trenton is a player that's steadily gotten better year after year for us. We expect him to be a leader for our hockey club this season, as well."
Stewart cites puck control as an area which Trenton Woods has improved. "His poise with the puck has become much better, and that's expected over time and (with) experience," Stewart said. "Him as a person — he's grown up into a really good young man and he's able to provide leadership for our team. He's always been a physical player and he has those physical attributes that you always want in a hockey player. He's really rounded out a lot of different areas of his game, which has made him into a Division I hockey player."
The 6-foot-1, 205-pound defenseman has developed into a quiet leader for the Ice Dogs.
"He's definitely gotten a little more involved socially, but he's still a quiet yet intense person," Stewart said.
Trenton Woods said he hasn't yet decided on a major at UAF. He is the sixth player from this season's Ice Dogs roster to commit to a Division I program. The others are defensemen Dylan Abbott (Minnesota State Mankato), Jasper Lester (Air Force Academy) and Lucas Erickson (St. Lawrence University), and forwards Parker Brown (Air Force Academy) and Luke Ciolli (Army).
"You've just got to trust the process in junior hockey. There's going to be some ups and downs," Trenton Woods said. "The Fairbanks Ice Dogs, I believe, are the best junior organization in all of juniors. They're going to get you ready every single day. They really care about their players and all they want to do is get you better."