Former NAPHL'er Balboa named as NAHL Goalie of the Month
October 3, 2019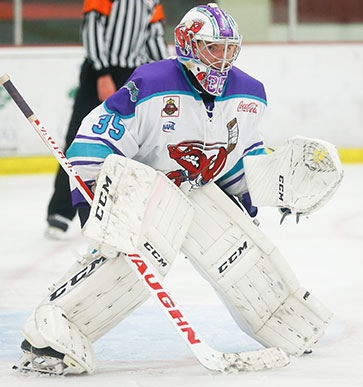 It was a perfect month of September for NAPHL grad and Shreveport Mudbugs goalie Maiszon Balboam who was named as the NAHL's Goaltender of the Month for September.
The 19-year-old native of Colorado Springs, Colorado, posted a perfect 4-0-0 record during the month, which included a 0.97 goals against average and a .968 save percentage. Balboa (6'3/200), who is committed to play NCAA Division 1 hockey for Air Force and is also an NAPHL grad, posted two shutouts during the month and stopped a total of 121 of 125 total shots, allowing just four goals.
Balboa's first taste of AAA hockey came in the NAPHL during the 2015-16 season with the Pikes Peak Miners 16U team. During that season, he put up a 3.34 goals against average and a .885 save percentage, which were great numbers given he had a 1-9-2 record that season.
"I have a lot of confidence in this year's team. I think we have clicked and meshed a lot earlier in the season that last season during my rookie year, so I am very excited to see what we can do. I think being committed to play NCAA Division 1 hockey for Air Force is a huge relief and has allowed me to focus on just getting better as a goalie and as a teammate. It is nice knowing playing for Air Force is in my future and motivates me to get better," said Maiszon. "My first year of playing legit AAA hockey was spent in the NAPHL and it was a great league to get started in. I didn't know much about junior hockey, but after playing that season in the NAPHL, you see all the benefits of the exposure to scouts at events and you become educated on how the ladder of development process works."
"Maiszon has had a great start to the season and we feel it's due to the work he put in in the offseason. He's playing like a veteran goalie right now, as he is composed and controlling the pace of games. He's had to make several big saves in all of his starts this year and we hope that trend continues. His leadership on and off this ice will be a big part of what the Mudbugs do this year," said Mudbugs head coach Jason Campbell.