NAPHL completes first event in Blaine
September 23, 2019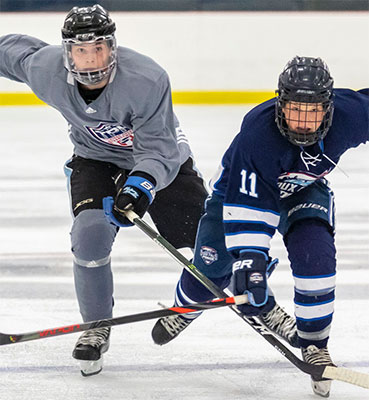 The first event of the 2019-20 NAPHL season wrapped up on Sunday, September 22nd in Blaine, Minnesota.
A total of over 350+ scouts, including all 26 NAHL teams were on hand for the event to watch the competition.
15U
The 15U action closed out with six shutouts in 10 games on Sunday.
Carshield kicked that trend off with a 5-0 win over MHA as Isaac Meija-Troop picked up the win in the crease, Florida Alliance dominated Colorado Springs 10-0 with three multi-goal scorers and 12 saves from Christian Alfredson, Thunder Bay outdueled New Jersey Titans 4-0 with a 20-save showing by Gunner Paradis, Green Giants toppled Sioux Falls 4-0 behind Austin Dietrich's shutout effort, Brett Holmer and Austin Wick combined for 28 saves as Blue Ox defeated Polars 4-0, and Jack Erickson stopped 17 to help the Loons to another 4-0 result, over Tri-State.
In the other games, Green Giants took down Esmark 5-2, Team Alaska nabbed a 4-1 win over Meijer, Everett bagged four against Arizona in a 4-1 win, and Lakers closed out the day with a 2-1 victory over MN Walleye thanks to extra-time heroics from Justin Kingery.
16U
Sunday saw it all — close contests, huge wins and plenty of teams finding a foothold to build towards the next NAPHL event.
Northeast kicked off the day with a 3-2 OT win over MDHL, as Nick Ramm netted the winner. Moose topped Tri State 6-3, Sioux Falls tallied three in the second to take down Esmark 3-1, Indy shutout Everett 3-0 with John Hughes' effort between the pipes, Blue Ox knocked off 95 Giants 6-4 in a high-scoring duel, New Jersey Titans beat Omaha 5-3, and MHA trampled Carshield in a 5-0 win.
From there, a few tight finishes ensued. Colorado Springs found a way past Minnesota Blades with a 3-2 SO win, thanks to Kieran Terrel's heroics in the shootout, and CYA outlasted a late comeback bid from Meijer to win 3-2.
To end the day, Lakers netted four straight goals to knock off Madison 4-1, Arizona suffocated MN Walleye in a 5-0 win as Stephen Gilson made 20 saves, Des Moines slipped past Janesville in a 5-4 OT thriller that saw Stepan Kuznetsor cap off his hat-trick with the game-winner, Sioux Falls posted a 4-1 win over Green Giants, and in the most lopsided game of the day, Gentry overwhelmed Magicians Elite 12-1 in a game that saw Cruz Lucius post four goals and Nick Sajevic three to guide Gentry to a comfortable victory.
18U
After all was said and done on Sunday, nine teams in attendance at the NAPHL portion of the 2019 NAHL Showcase finished with a perfect 4-0 record.
Meijer AAA, MDHL, Des Moines Jr. Bucs, Omaha AAA, Voyageurs, Wilderness, Illinois HS, Northstar and MHA cruised through the final day to stay unbeaten, taking down New Jersey Pre/Post 3-0, Pilot Mound 8-1, Northeast 6-0, New Jersey Titans 4-0, Fountain Valley 4-1, Ontario 2-1, Shattuck St. Mary's in a 7-6 OT thriller, Janesville 5-1 and Carshield 4-2, respectively.
Elsewhere, Moose breezed past Colorado Springs 4-1, Philadelphia Little Flyers slipped by Team Illinois 5-4 thanks to two goals apiece from David Matousek and Byron Hartley, Green Giants beat 95 Giants 4-2 with Hayden Davison's hat-trick and NJ 87's torched Tahoe Prep 7-3.
As the day went on, closer games became the norm. Magicians Elite slipped past Maryland 5-4 in a thrilling affair, Everett needed overtime to top Team Alaska 4-3, Compuware held off Seacoast for a 3-2 win and Nashville took down Esmark 1-0 after an early second period goal.
Thunder Bay carried on the close game theme with a 3-2 win over Loons, but the trend shifted to more dominant showings and more goals in general from there. Lakers blitzed Arizona 6-1, Muskies and Portland battled to a 6-5 win for Muskies after a late winner from Cooper Schumacher, Indy put in a solid shift to knock off Madison 5-1, Sioux Falls easily handled CYA in a 9-3 blowout and Soo took down Magicians Open 5-1 to close out the 18U action.