Plenty of action on Day 3 of NAPHL event in Blaine
September 22, 2019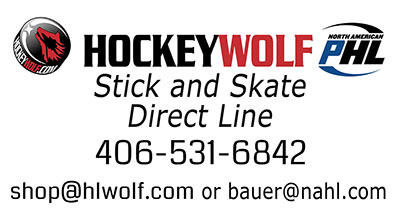 The 11th season of NAPHL hockey continued on Day 3 of the first event in Blaine on Saturday, September 21st at The Greatest Show on Ice, the 17th annual NAHL Showcase, which is being held from September 18-22 at the Super Rink and Fogerty Arena in Blaine, Minnesota.
Traditionally, the NAHL Showcase attracts close to 9,000 people in overall attendance, including more than 300 junior, NCAA and professional scouts. Over 300 scouts have checked in through three days of the event, which includes all NAHL teams, almost every NCAA Division 1 school and almost every NHL team.
All games will be broadcast live through
HockeyTV
, the official broadcast provider of the NAPHL.
Helpful Showcase Links:
Day 3 recaps:
15U
Three overtime/shootout games and a pair of shutouts highlighted Saturday's slate of 15U games. Esmark took home a 2-1 SO decision over Team Alaska after Kowin Belsterling's winner, Brayden Wilson's second goal of the game carried Carshield to a 4-3 OT win over Blue Ox and Tom Jacques provided the OT heroics for Tri-State's 3-2 win over Lakers.
Meijer and Moose slammed the door on their opponents. Chris Diamondidis stopped 12 of 12 for Meijer in a 5-0 win over New Jersey, while Jacques Finnigan backstopped the Moose to a 9-0 win over Colorado Springs.
Elsewhere in 15U action, Green Giants outlasted Polars in a 7-5 shootout, Arizona toppled MHA 4-2 thanks to Tristian Korn's two goals, MN Walleye knocked off Florida Alliance 4-1 and Thunder Bay potted six against Indy as two players had multi-goal games.
Finally, Loons slipped past Everett 5-3 with four third-period goals and Esmark narrowly topped Sioux Falls after the latter netted a late goal to make it close.
16U
Dominance was the common theme on Saturday, as 10 of the 16 games were decided by three or more goals.
Florida Alliance kicked it all off with a 4-1 win over the Minnesota Blades with two goals and a helper from Max Resnick. Des Moines then upped the ante with an 8-1 win over Madison, in which two players had multi-goal games. Lakers roared past Janesville 8-0 thanks to four goals from Zach Seltun and a shutout effort from Jacek Hummel.
Gentry continued its strong play to take down Tri-State behind a Connor Kurth hat-trick, MDHL used a different scorer on each goal in a 6-1 win over Green Giants, Esmark erupted for 11 goals against the Moose, featuring three players with multiple goals, and Meijer dealt Janesville a second loss on the day, winning a 5-1 decision later in the day.
New Jersey, Blue Ox and Arizona rounded out the big wins, defeating Magicians Elite 6-2, Everett 5-2 and Magicians Open 8-0, respectively.
In the closer contests, two required extra time. Magicians Open took home a 2-1 OT win against Northeast after Keegan Masser's overtime effort, and the MN Walleye battled past Colorado Springs for a 5-4 shootout win, with Jonathan Halstrom netting the lone goal.
Sioux Falls, Omaha, 95 Giants and Florida Alliance came away with clutch wins in regulation time. The Power put home two quick goals in the second period and held on for a 4-2 win over MHA, Omaha potted three unanswered goals in the final period and a half to come back and beat Carshield 5-3, 95 Giants' Max Maisano nabbed two late tallies to push his team to a 3-2 win over Indy and Florida counted on two goals from Max Resnick to guide them past CYA, 4-2.
18U
It was another busy day in 18U action, with 26 games on the slate. Magicians Elite opened the day making quick work of Seacoast with a 10-1 win, boasting two goals from Samuel Jacobs and a 19-save effort by Garret Bonello, while Janesville knocked off Arizona 5-1 thanks to a pair from Jacob Slater.
Later, New Jersey Pre/Post, Esmark and Nashville each took home shootout wins. The Titans topped Madison thanks to Dylan Roebuck's winner — the only puck to cross the goal line in the entire game — Esmark beat Compuware as Alex Walker netted the decider, and the Jr. Preds took down Carshield 3-2 after Michael Reed scored both the game-tying goal in regulation and the winner in the breakaway contest.
Voyageurs, Gray Ducks, MDHL and Moose picked up wins in the guest division, defeating Florida Alliance, Fountain Valley, Ontario Jr. Reign and Tahoe Prep, respectively. MDHL and Moose in particular shone brightly — eight different skater lit the lamp for MDHL, while three had multiple goals in a 14-3 win for the Moose.
Sioux Falls, Everett and Colorado Springs each took home wins in tight contests on the day as well. The Power topped Team Alaska 4-2 thanks to a balanced scoring effort, the Silvertips Elite erupted for four first-period goals and held on for a 4-2 win over Indy, and the Tigers needed a mid-game GWG from Alex Leaf to knock off NJ 87's 2-1.
Elsewhere, Soo, Des Moines, MHA and Northeast kept the close games going. The Indians slipped past Loons 3-2 with an early third-period goal by Chase Tallaire, Des Moines rode a Cameron Crolley hat-trick to a 5-3 win over Philadelphia, MHA outlasted Maryland 2-1 in a tight-checking affair and the Generals dropped Green Giants with a late winner after trading goals for 40+ minutes.
Meijer, Omaha, Minnesota Wilderness and Thunder Bay flexed their muscles with shutouts on the day. Hunter Garvey stopped 19 of 19 for Meijer, Trevor Wong backstopped a 7-0 decision for Omaha, and Owen Carlson and Eric Vanska each stayed perfect through 15 shots for the Wilderness and Kings, respectively.
Two of the more eye-catching contests came in the middle of the day, as Shattuck St. Mary's and Northstar each took home high-scoring OT wins. Shattuck used a pair of Colby Browne goals (including the OT winner) to a 5-4 win over New Jersey Jr. Titans in a game that saw them roar back from three separate two-goal deficits, while Northstar needed a late comeback of their own and some extra time heroics from Jens Richards to get past Team Illinois 4-3.
Rounding out the end of the day, Lakers beat Portland 7-2, Illinois High School Showcase dropped Magicians open 6-2 and Voyageurs nabbed an impressive second win on the day, defeating Muskies 7-2.
Stay tuned to NAPHL.com and @NAPHL for updates on the final day of action here at the NAHL Showcase!