Day 1 of NAPHL season sees competitive games, scouts
September 20, 2019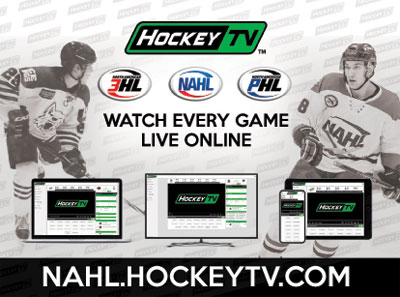 The 11th season of NAPHL hockey began on Thursday, September 19th with the beginning of play at The Greatest Show on Ice, the 17th annual NAHL Showcase, which is being held from September 18-22 at the Super Rink and Fogerty Arena in Blaine, Minnesota.
Traditionally, the NAHL Showcase attracts close to 9,000 people in overall attendance, including more than 300 junior, NCAA and professional scouts. Over 200 scouts check in on Day 1 of the event, which began on Wednesday.
All games will be broadcast live through
HockeyTV
, the official broadcast provider of the NAPHL.
Helpful Showcase Links:
Day 1 recaps:
15U
Eight contests marked the start of 15U play, as seven NAPHL Tier 1 squads took the ice against guest teams.
Florida Alliance picked up the lone NAPHL win in that group, knocking off Lakers 4-2 thanks to Jake Richard's hat-trick. Esmark and Meijer battled it out in an all-NAPHL matchup which saw the Stars scrape by after Chase Stormer's OT heroics.
Elsewhere, Colorado Springs, Thunder Bay and Everett suffered tight losses, dropping their openers to New Jersey, MN Walleye and Moose, respectively. Carshield and Arizona fell to Team Alaska and Loons by a 4-1 margin in both games, and the Indy Fuel rounded out the group with a 3-0 shutout of the Tri-State Spartans on the back of Hayden Lee's effort between the pipes.
It's a wide-open division in the 15U realm this year, and teams will be looking to gain a strong foothold in the standings as the weekend goes along.
16U
The 16U action got underway with a few high-paced, close games. Sioux Falls got things started with a late winning goal to knock off the Minnesota Blades 4-3, followed by Meijer with a 1-0 win over Tri-State. Connor McAleer got the goal in front of a 16-save shutout by Logan Sarrazin. Esmark took down Chicago Young Americans in a back-and-forth OT battle that saw Kamil Zainullin pot the game-winner.
Elsewhere, Arizona rode a 21-save effort from net minder Stephen Gilson to a 3-0 shutout of Everett, and Gentry cruised past Omaha AAA by a 7-1 final tally. New Jersey capped off the NAPHL victories with a 4-3 win over MHA, featuring three strikes by Luke Riley.
A few NAPHL teams will be hoping for a bounce-back effort on day two, as Madison was shelled 11-0 by MDHL, Carshield, Northeast and 95 Giants dropped games by a score of 5-2, 4-1 and 7-3 in their opening tilts.
Colorado Springs played twice on Thursday, falling 2-1 against Indy and 4-2 to the Lakers later in the day. And in an all-Minnesota matchup, Blue Ox tore down the Moose.
18U
The new-look 18U division saw all three Tier I conferences take the ice in thrilling fashion, featuring five overtime contests and a pair of shootouts.
Nashville, MHA, Lakers, Moose and the Minnesota Magicians Elite picked up wins in the extra frame, outlasting Seacoast, Esmark, Lake Tahoe, Arizona and Carshield in the process. Meijer picked up a clutch shootout win over Indy, while CYA slipped past Everett 6-5 after the breakaway competition.
Shattuck St. Mary's, Northstar and New Jersey were the only NAPHL representatives to post a shutout on day one, knocking off Pilot Mound, NJ 87's and Green Giants in the process. From the Guest division, Des Moines shut out 95 Giants, Omaha blanked Philadelphia and Soo held the Generals to a goose egg.
There were also a few high-scoring affairs, as MDHL took down Florida 6-2, Compuware knocked off Maryland 5-1, Madison took care of business against Team Alaska 4-3 and New Jersey Pre/Post put up a whopping eight goals against Sioux Falls.
Finally, in the night cap, Keaton Kranz carried the Grey Ducks with a hat-trick to topple the Ontario Jr. Reign 5-3.
Stay tuned to NAPHL.com for updates throughout the Showcase!