2019-20 NAPHL season faces off at NAHL Showcase
September 19, 2019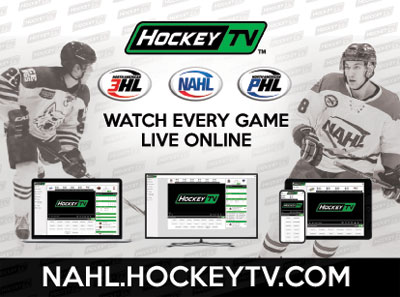 The 11th season of NAPHL hockey begins on Thursday, September 19th with the beginning of play at The Greatest Show on Ice, the 17th annual NAHL Showcase, which is being held from September 18-22 at the Super Rink and Fogerty Arena in Blaine, Minnesota.
Traditionally, the NAHL Showcase attracts close to 9,000 people in overall attendance, including more than 300 junior, NCAA and professional scouts. Over 200 scouts check in on Day 1 of the event, which began on Wednesday.
All games will be broadcast live through
HockeyTV
, the official broadcast provider of the NAPHL.
Helpful Showcase Links:
"We are excited to get another season started in Blaine and see the crop of new players that will be playing in the NAPHL this season. Each season we see a rise in the number of scouts at the event and this year will be no exception. NAHL Central Scouting will also be out in full force at this weekend's event, so we are excited to get a first look at all the new talent," said NAPHL Director Tony Zasowski.
For the 2019-20 season, the NAPHL will continue with a structure that features three different divisions. Teams were selected for the three different divisions based on USA Hockey Tier I, Tier II, or Prep/High School status. The NAPHL will offer four age classifications that will compete at the 18U, 16U, 15U, and 14U levels.
The NAPHL has enjoyed a record-breaking amount of advancement, which is highlighted by a large amount of advancement of players to the North American Hockey League (NAHL). No other USA Hockey Midget Tier I league has had more players play in the NAHL over the course of the last three seasons than the NAPHL.
This past season, over 110+ NAPHL alumni played in the NAHL and over 225 NAPHL alumni played in the NCAA. In addition, a record-breaking total of 49 players from the NAPHL have been tendered to play in the NAHL for the upcoming 2019-20 season. During the past three years, 160+ NAPHL players have signed an NAHL tender or been drafted into the NAHL, which is a testament to the success of the NAPHL to NAHL Ladder of Development model. In addition, a total of 28 NAPHL alumni have been selected in the last seven NHL Drafts.