Dixon Cup Semi-Finals set after wild Day 2
February 17, 2019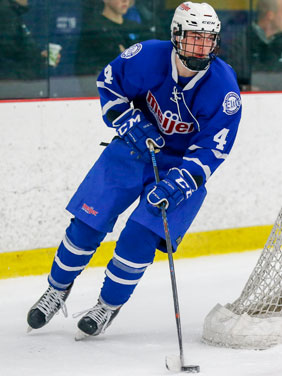 The 2019 North American Prospects Hockey League Dixon Cup Playoffs continued with Day 2 of the event on Saturday, February 16th at the Troy Sports Center in Troy, Michigan. Day 2 was jam-packed with exciting games, with the 16U Division playing two games and the round-robin portion of the event wrapping up.
18U Division
With the busy day in the review mirror, the 18U teams had just one final round-robin game to play on Saturday. In Division 1, it was a battle between 2-0 teams Meijer AAA and Valley Forge to see who would go to the Semi-Finals. Valley Forge led the entire game 1-0, but Meijer won a face-off late and would tie the game with less than a second remaining in regulation to force overtime where Brendan Dicker would be the hero and give Meijer the 2-1 win. The other game in Division 1 had Shattuck-St. Mary's finished 3rd thanks to a 4-1 win over Nashville as Jazz Krivstov and Josh Silverman each had two goals. In Division 2, the surprise Thunder Bay Kings won the Division with a perfect 3-0 record thanks to a 4-2 win over Arizona as Nikolas Campbell scored twice. The other game in Division 2 saw Everett end up in 3rd place thanks to a 5-2 win over CarShield as Conall Muldoon had two goals and an assist. In Division 3, it was a winner take all match-up between two undefeated teams in Esmark and Rocky Mountain. Esmark led 2-1, but goals late in the 2nd period from Zach Purcell and Brent Keefer, along with 26 saves from Andrew Miller gave the RoughRiders the 3-2 win and spot in the Semi-Finals. In the other Division 3 game, Florida Alliance picked up their first win of the event thanks to a 2-1 win over Colorado Springs as Andrew Miranda scored the game-winning goal. In Division 4, a 4-1 win by two-time Dixon Cup 18U Champion Madison Capitols sent them into another Semi-Finals appearance as they beat Sioux Falls. Parker Storck had two goals and an assist in the win. In the final game of the round-robin, the Wenatchee Wolves got their first win of the event thanks to a 2-0 shutout of the Soo Indians as goalie Luke Newell made 29 saves in the shutout.
18U Semi-Finals: Madison Capitols vs. Meijer AAA / Rocky Mountain RoughRiders vs. Thunder Bay Kings
16U Division
Saturday was the busy day for the 16U Division, as all teams played in two games. In Division 1, the regular season champion Alaska Oilers rolled to the Semi-Finals thanks to a 7-0 win over Meijer 15U and a 4-1 win over 2-0 Valley Forge in the final game to reach the next phase. The usual suspects are producing for Alaska as Nikita Asylaev has 8 points in three games and Aiden Westin has seven. In Division 2, both Sioux Falls and Esmark won their morning games, setting up an afternoon match-up between the two teams for a spot in the Semi-Finals. Power forward Nicholas Ostbloom had a huge game as he recorded a hat-trick to lead Sioux Falls to a 5-2 win over Esmark for a perfect 3-0 record and a spot in the Semi-Finals. Division 3 was the craziest of the four divisions as three teams had a shot at claiming the top spot. In the morning, Rocky Mountain edged defending 16U Champion Arizona in a shootout, while CarShield beat Thunder Bay, 5-1. However, the night game proved to be the difference as CarShield turned around and beat Rocky Mountain, 3-2 in regulation, which then set up Arizona to claim the top spot thanks to a 3-1 win over Thunder Bay. Bobcats goalie Caleb Wall has allowed just two goals on 74 shots in two games. In Division 4, Meijer AAA cruised to a 3-0 record and spot in the Semi-Finals thanks to a 6-1 win over Colorado Springs in the morning and a 3-0 shutout of Everett in the evening. NAHL Tender and Lake Superior State commit Branden Piku has six points through the first three games.
16U Semi-Finals: Meijer AAA vs. Alaska Oilers / Arizona Bobcats vs. Sioux Falls Power
All Dixon Cup games will be broadcast live and in HD on
HockeyTV
The NAPHL Championship trophies (Dixon Cup) are named after Dean Dixon, longtime coach of the NAPHL's Lansing Capitals, one of the charter members of the NAPHL. In the Summer of 2013, Dixon was diagnosed with brain cancer. Even though the tumor was thought to be inoperable, it was successfully removed and Dean continued his fight through radiation and chemotherapy. On March 17, 2014, Dixon ultimately lost his battle with the disease, but his influence and legacy on the Capitals program and the NAPHL is something that will never be forgotten.
In the Semifinals and Finals teams will play five minutes of 5 v. 5, followed by five minutes of 3 v. 3, then a 3 man shootout, then a sudden-death shootout if necessary.
Previous Dixon Cup Champions
2019: 15U-Rocky Mountain RoughRiders
2018: 18U-Esmark Stars, 16-Arizona Bobcats, 15U-Rocky Mountain RoughRiders
2017: 18U-Madison Capitols, 16U-Esmark Stars, 15U-Washington Little Caps
2016: 18U-Madison Capitols, 16U-Omaha AAA
2015: 18U-New Jersey Jr. Titans, 16U-Omaha AAA
2014: 18U-Omaha AAA, 16U-Lansing Capitals
2013: 18U-Indiana Jr. Ice, 16U-Omaha AAA
2012: 18U-California Titans, 16U-Indiana Jr. Ice, 14U-St. Louis Selects
2011: 18U-DC Capitals, 16U-Pikes Peak Miners, 14U-Rocky Mountain RoughRiders
2010: 18U-California Titans, 16U-Pikes Peak Miners