2019 Dixon Cup Championship begins Friday in Troy
February 15, 2019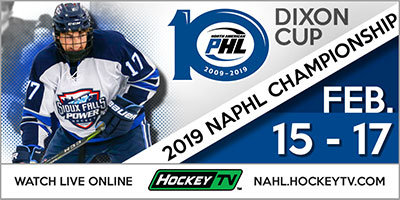 The 2019 North American Prospects Hockey League Dixon Cup Playoffs begin on Friday, February 15th at the Troy Sports Center in Troy, Michigan. The Dixon Cup annually crowns the playoff champions of the NAPHL.
All NAPHL 18U and 16U High Performance and Elite Division teams will compete in the event. Both the 18U and 16U NAPHL Dixon Cup Championship games will be played on Sunday night, February 17th at the USA Hockey Arena in Plymouth, Michigan.
"I look forward to watching teams compete this weekend for the Dixon Cup. It has been a great regular season and I expect this to be the best hockey we have seen this season," said NAPHL Director Tony Zasowski. "We have 30 NAPHL players to date who have signed NAHL tenders, but many more remain available, so I think the scouts this weekend in attendance will not only be eager to see how far the players have progressed, but also how they compete under pressure."
All games will be broadcast live and in HD on
HockeyTV
The NAPHL Championship trophies (Dixon Cup) are named after Dean Dixon, longtime coach of the NAPHL's Lansing Capitals, one of the charter members of the NAPHL. In the Summer of 2013, Dixon was diagnosed with brain cancer. Even though the tumor was thought to be inoperable, it was successfully removed and Dean continued his fight through radiation and chemotherapy. On March 17, 2014, Dixon ultimately lost his battle with the disease, but his influence and legacy on the Capitals program and the NAPHL is something that will never be forgotten.
The NAPHL will use the International Point System for the Dixon Cup Championship.
3 points for a regulation win
2 points for an OT/Shootout win
1 point for an OT/Shootout loss
0 points for a regulation loss
Advancement to Semifinals: At the end of the three round-robin games, the top teams in each of the four divisions based on points (and subsequent tie-breakers if necessary) will advance.
Overtime/Shootouts: Overtime and shootout procedures will remain the same as the regular season for the play-in portion. (4 minutes of 3 v. 3 then straight to a sudden death shootout w/same player able to shoot in multiple rounds).
In the Semifinals and Finals teams will play five minutes of 5 v. 5, followed by five minutes of 3 v. 3, then a 3 man shootout, then a sudden-death shootout if necessary.
Previous Dixon Cup Champions
2019: 15U-Rocky Mountain RoughRiders
2018: 18U-Esmark Stars, 16-Arizona Bobcats, 15U-Rocky Mountain RoughRiders
2017: 18U-Madison Capitols, 16U-Esmark Stars, 15U-Washington Little Caps
2016: 18U-Madison Capitols, 16U-Omaha AAA
2015: 18U-New Jersey Jr. Titans, 16U-Omaha AAA
2014: 18U-Omaha AAA, 16U-Lansing Capitals
2013: 18U-Indiana Jr. Ice, 16U-Omaha AAA
2012: 18U-California Titans, 16U-Indiana Jr. Ice, 14U-St. Louis Selects
2011: 18U-DC Capitals, 16U-Pikes Peak Miners, 14U-Rocky Mountain RoughRiders
2010: 18U-California Titans, 16U-Pikes Peak Miners