11 former NAPHL players highlight NAHL Top Prospects rosters
February 14, 2019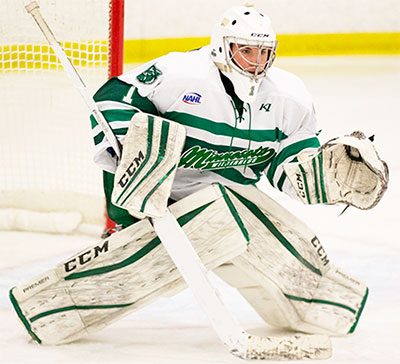 The North American Prospects Hockey League (NAPHL) is pleased to announce that 11 former players have been selected to play in the 2019 North American Hockey League (NAHL) Top Prospects Tournament, which will take place from February 18-19, 2019 at the New England Sports Village in Attleboro, Massachusetts.
The NAHL Top Prospects Tournament is one of the most highly-scouted events in junior hockey. Last season, over 230 scouts attended the event, which featured almost every NHL team and NCAA Division I school. It continues to be an important part of the NAHL event model, which includes the NAHL Showcase in September and the NAHL Robertson Cup National Championship in May.
"The growth and success of the NAPHL had a big impact on the record-breaking NCAA commitment numbers the NAHL enjoyed this past season, further reemphasizing the importance and growth of our Ladder of Development. We are very proud of these 11 NAPHL alumni for being selected to play in the NAHL Top Prospects Tournament and hope that it is their next steps in advancement towards success in the next stage of their careers in the NCAA," said NAPHL Director Tony Zasowski.
One of the things the NAHL does better than any other junior league is seeing their players earn an NCAA opportunity while playing and being showcased in the NAHL. To date, 175 players have already made NCAA Division I commitments during the 2018-19 season. The NAHL Top Prospects Tournament plays a big role in that success, with over half of the players who played in last year's Top Prospects Tournament, earning an NCAA Division I opportunity following their participation in the event. The event continues to provide the hundreds of NHL and NCAA scouts in attendance with a look at the best uncommitted players the NAHL has to offer, as well as, some potential NHL Draft picks.
The NAPHL has 11 former players on all six NAHL teams that will be participating in the event. They are the following (alphabetical):
Ryan Fanti, G, Minnesota Wilderness (Thunder Bay Kings)
Sacha Guillemain, F, WBS Knights (Meijer AAA)
Louis Helsen, D, Amarillo Bulls (HC Dallas)
Thomas Jarman, D, Maryland Black Bears (Omaha AAA)
Killian Kiecker-Olson, F, Chippewa Steel (Sioux Falls Power)
Grant Ledford, F, Fairbanks Ice Dogs (Meijer AAA)
George McBey, G, Brookings Blizzard (HC Dallas)
Ty Proffitt, F, Fairbanks Ice Dogs (California Titans)
Colin Schmidt, F, Jamestown Rebels (Omaha AAA)
Andy Willis, F, Austin Bruins (CarShield AAA)
Dante Zapata, F, Austin Bruins (Arizona Bobcats)