NAPHL starts crowning 2019 Champions in Michigan
January 21, 2019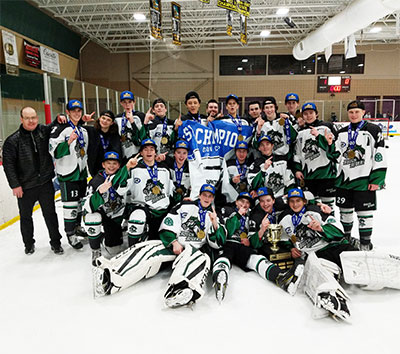 The 10th anniversary season of NAPHL hockey continues this weekend with the fifth event of the 2018-19 season in suburban Detroit, Michigan.
The event continued with Day 3 on Sunday, January 20th as the High Performance and Elite Divisions get back into their final regular season event, while Championships were on the line in the Showcase, Prep and 15U Divisions.
All games will be broadcast live through
HockeyTV
, the official broadcast provider of the NAPHL.
To check NAPHL scores from your mobile device, download the
NAHL App
(
iOS
-
Google Play
)
Helpful Showcase Links:
Day 3 Recaps:
15U Division
The 2018-19 15U season went out with a bang on Sunday, featuring a pair of stellar displays in the semi-finals and a close-checking Dixon Cup Final, as well as strong closing performances in the consolation contests.
Sioux Falls took down Meijer 4-1 in the first semi-final, riding two-point performances from Aiden VanRooyan, Blake Bakey and Casey Winders. In the other semi, Rocky Mountain coasted past Esmark 6-1 to earn their spot in the final. Sean Wilson, Liam Cox-Smith and Nicolas Yard each logged 1-2—3 to pace all skaters in the contest.
Despite both teams' offensive dominance in the semi-finals, the championship contest between Rocky Mountain and Sioux Falls came down to just a single goal in a back-and-forth tilt. Liam Cox-Smith played hero for the RoughRiders, scoring with just over three-and-a-half minutes to play as Brant Kragel stopped all 21 Power shots to seal a second 15U Dixon Cup title for Rocky Mountain in as many years.
In the consolation matchups, Florida put five past Everett in a 5-2 win, Carshield moved to 3-1 on the weekend with a 6-1 victory over Colorado Springs and Nashville blitzed Arizona 6-1 behind Valeri Chunchukov's stellar five-goal showing.
Showcase Divisions
Both the 16U and 18U Showcase Divisions set their semi-finals on Sunday morning and finals set on Sunday night, bringing the championship picture into a bit more clarity.
In the morning, Highland Park potted a half-dozen to clinch their semi-final spot, dropping Geneva 6-0 with two goals from Evan Detina as they joined Naperville, Chicago Bruins and Chesterfield with a chance to play in the final.
Both 16U semi-final matchups were hotly contested, with just one goal separating both winners from their opponents. Naperville opened up a two-goal lead early in the final frame before holding off the Bruins for a 3-2 win in the first tilt, while Chesterfield and Highland Park remained 0-0 through overtime before Zac Maupin found twine in the shootout to send Chesterfield to the final. The Falcons and Sabres will face off at 10:15 on Monday to battle for the Showcase title.
18U Showcase teams saw action in the morning to finalize semi-final placements, with West Dundee defeating Naperville, Anaheim dropping Texas, Geneva edging out Chicago Bruins and Romeoville topping Chicago Blues to each clinch their spot in the night games.
Luke Busher led the Ducks to a big 5-3 win over Romeoville with a pair of goals on the night to help Anaheim advance, while Geneva's Nick Greco stopped all 24 shots he faced in a 2-0 win over West Dundee. The Ducks and Cyclones will take the ice at 12:15 on Monday to decide the 18U championship.
Prep Division
The Prep squads hit the ice once more in round-robin play on Sunday to decide their semi-final setups as well, with Northstar, Pilot Mound, Lake Tahoe and Fountain Valley ultimately filling the four slots.
Northstar was the only squad to go unbeaten on the weekend, and faced fourth-seeded Fountain Valley on Sunday night's semi-final. The two teams played a tight-checking 40 minutes that saw the usually-prolific Northstar attack limited to just a 2-0 lead, before Zachary Barros tallied his second of the game alongside Ben Casey's individual strike to double their advantage and send Northstar through with a 4-0 win thanks to Camdyn Barber's shutout performance in net.
The other semi-final featured another blanking, as Pilot Mound's Michael Turrell turned aside 22 of 22 shots in a 2-0 win over Lake Tahoe. Michael Spence and Matty Harrold paced the Buffaloes attack.
Northstar and Pilot Mound will battle out the Prep final at noon on Monday.
High Performance/Elite Divisions
The 18U and 16U Tier 1 competition drew nearer to a close on Sunday as teams continued to round out their regular season slate.
The 16U squads went head-to-head in several key matchups. Sioux Falls clipped Alaska 4-3 in a clash of titans atop the High Performance division, leaving both teams level on 25 points heading into the final day of the season on Monday. In the Elite division, Florida and Thunder Bay tangled in a tilt that the Alliance took 3-2 to move just one point shy of the Kings in the second division spot.
18U play saw Meijer and Wenatchee clinch the respective HP and Elite regular season titles on Sunday. Meijer took down second-place Carshield with a 3-2 shootout win in a High Performance division-deciding contest. Aaron Hamel scored twice in regulation, and Anthony Davis clinched the win with a shootout tally to lift Meijer to the title. Wenatchee won with less drama, taking the Elite Division with a 4-2 victory over Florida to stretch their advantage to six points at the top.