Championships starting to take shape on Day 3 in Michigan
January 20, 2019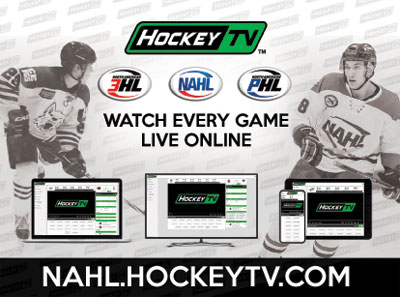 The 10th anniversary season of NAPHL hockey continues this weekend with the fifth event of the 2018-19 season in suburban Detroit, Michigan.
The event continued with Day 2 on Saturday, January 19th as the High Performance and Elite Divisions get back into their final regular season event, while Championships are on the line in the Showcase, Prep and 15U Divisions.
All games will be broadcast live through
HockeyTV
, the official broadcast provider of the NAPHL.
To check NAPHL scores from your mobile device, download the
NAHL App
(
iOS
-
Google Play
)
Helpful Showcase Links:
Day 2 Recaps:
15U Division
15U Playoff action continued on Saturday with each team taking the ice once, deciding the semi-final placements heading into Sunday. Meijer topped Esmark to stay perfect on the weekend and clinch Division 2, but the Stars hung on to their lead in Division 1 to clinch a semi-finals berth. Rocky Mountain also won their division despite a last-day loss, dropping a shootout contest against Carshield to close out round-robin action. Sioux Falls snagged the wild-card bid with a victory over Floriday to make it three wins from three games for them this weekend, coming second to Meijer only on goal differential in Division 2.
Elsewhere, Nashville and Colorado Springs — each in search of their first win on the weekend — duked it out in a shootout contest that tilted the way of the Jr. Predators after Valeri Chunchukov's winning strike. Ethan Secord lifted Everett to a 1-0 shutout of Arizona to close out their weekend set as well.
Sunday is set to feature a heavyweight tilt between Meijer and Sioux Falls — the only two unbeaten teams this weekend — as well as an exciting contest between Rocky Mountain and Esmark to round out the semi-finals. The winners of those matchups will take the ice later in the afternoon to decide the Dixon Cup champion. Also on the docket are contests between Colorado Springs and Carshield, Florida and Everett, and Nashville and Arizona.
Showcase Divisions
The 16U and 18U Showcase Division Championship picture began taking more shape on Saturday as 16U teams played their third games and 18U squads faced off for the second time this weekend.
Chesterfield, Naperville and Highland Park continued to pace the 16U ranks, leading Divisions 2, 3 and 4, respectively, after wins on Saturday. Gage Vierzba's hat-trick led Chesterfield's 8-1 blitz past Ventura, Tyler Briles stopped all 27 pucks to guide Naperville to a 4-0 win over Orland Park and Highland Park slipped past Oakland in OT thanks to John Babnik's extra-time strike.
The Chicago Bruins strengthened their hold on Division 1 with a 5-1 win over the Chicago Blues, while Wenatchee knocked off Affton to stay hot on their heels. West Dundee topped Vernon Hills 5-4 as the Leafs look to keep pace with Chesterfield in Division 2. Anaheim matched Highland Park's winning effort with a 4-2 victory over Geneva to hold strong in second place in Division 4.
18U action saw Anaheim, Naperville, Geneva and Chicago Blues stay unbeaten with wins on Saturday. The Ducks coasted past the Chicago Hawks 7-1 with two goals apiece from Cory Mater and Jacob Padgett, Naperville rode Jack Pomillo's two goals to a 4-2 decision over Fernie and Chicago unloaded a whopping 10-goal effort against St. Mary's, featuring hat-tricks by Nick Schwandt and Tyler Maggio. McKinney and Highland Park each picked up their first wins of the weekend, dropping West Dundee and Texas in Saturday action to stay within striking distance of their division leaders. Later in the day, Affton picked up a crucial shootout win over Romeoville to slide into a narrow lead atop Division 4.
Both divisions will see their semi-finals set on Sunday morning, with games slated for later in the evening.
Prep Division
The NAPHL Prep squads kicked off their own playoff competition on Saturday with two games apiece. Northstar Academy and Pilot Mound went unbeaten to top Division 1, with Northstar topping St. Rita and Lake Tahoe and the Buffaloes nabbing wins over Prairie and St. Rita. Northstar's Luke Anderson and Pilot Mound's Matty Harold both starred for their sides with 3-3—6 to pace all Prep skaters.
Fountain Valley and Lake Tahoe split their two matchups, with Lake Tahoe taking the tilt between those two teams before falling to Northstar and Fountain Valley responding to their loss with a victory over Prairie, who enter Sunday in search of their first win alongside St. Rita.
Sunday's contests include Pilot Mound against Lake Tahoe, St. Rita against Fountain Valley and Prairie taking on Northstar as teams look to cement their places in the top two spots in each division to take the ice in the semi-finals on Sunday night.
High Performance/Elite Divisions
The NAPHL Tier 1 teams inched closer to cementing their regular season standings on Saturday with two games per team, including cross-divisional play between High Performance and Elite squads.
Alaska impressed in 16U action with two wins on the day, including a 10-2 romp past Florida that featured a Cameron Morris hat-trick and two goals from Nikita Asylaev. Sioux Falls, however, kept hot on the heels of the Oilers in the HP division with wins over Carolina and Carshield. Madison and Meijer each bagged a shutout thanks to the Capitals' Matthew Bryant stopping 33 pucks and Meijer's Slava Kudin's 12-save effort. Esmark and POE may have played the game of the day in a 9-6 thrilling win for the Stars. Both teams featured a hat-trick performance, as Yusaku Ando bagged a trio for POE and John Camp netted three for Esmark.
Saturday's 18U hockey was highlighted by Meijer and Carshield each winning twice, extending their individual victory streaks to four and two games, respectively, and widen the gap between them and the remaining teams in the HP division. Wenatchee won its third straight to go six points clear atop the Elite group, dropping Madison 2-1. Elsewhere, Shattuck rode a pair of Jazz Krivstov tallies to their fourth consecutive victory, a 3-2 win over Everett.
The teams take the ice again on Sunday and Monday with all to play for as the regular season comes to a close.