More drama in store of Day 2 of NAPHL event in Michigan
January 19, 2019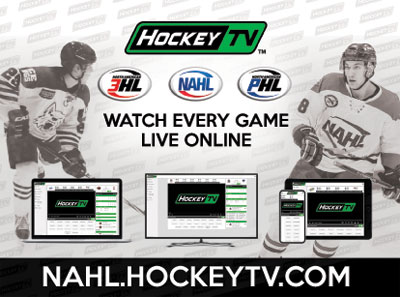 The 10th anniversary season of NAPHL hockey continues this weekend with the fifth event of the 2018-19 season in suburban Detroit, Michigan.
The event began on Friday, January 18th as the High Performance and Elite Divisions get back into their final regular season event, while Championships are on the line in the Showcase, Prep and 15U Divisions.
All games will be broadcast live through
HockeyTV
, the official broadcast provider of the NAPHL.
To check NAPHL scores from your mobile device, download the
NAHL App
(
iOS
-
Google Play
)
Helpful Showcase Links:
Day 1 recaps
15U Division
At the end of day one, Esmark and Florida currently sit atop Division 1 with three points apiece, Meijer and Sioux Falls each won twice to each boast six points in Division 2 and Rocky Mountain's pair of victories gives the Roughriders sole possession of first place in Division 3.
In Division 1, Esmark started its day with a 3-1 loss to the Power despite scoring first, while Florida easily downed Nashville 4-0 thanks to 24 saves from Aiden Winslow and goals from four different skaters. Colorado Springs suffered a 6-2 defeat at the hands of Meijer, followed by a 7-1 loss to Sioux Falls in the afternoon. Esmark and Florida swapped results, as the Stars took a 7-1 victory over Nashville with a hat-trick by Keith Smilowitz and the Alliance ran into the Meijer buzzsaw in a 7-1 loss of their own.
Meijer and Sioux Falls seem set to go tit-for-tat in Division 2, with the former carrying only a slight goal differential advantage over the latter (Meijer +10, Sioux Falls +8). Both teams are set for tough matchups against the top teams in Division 1 on Saturday, with the Power taking on Florida and Meijer facing off against Esmark.
Elsewhere, Rocky Mountain took a steady advantage in Division 3 with two wins on day one. The Roughriders took down Everett and Arizona by a combined 11-3, with Liam Cox-Smith bagging three goals on the day and Sean Wilson notching another two. Everett and Carshield trail with three and two points, respectively, as the Silvertips topped Carshield 5-4 following their earlier loss to Rocky Mountain. Carshield took points from a matchup with Arizona earlier in the day, but fell to the Bobcats 3-2 in a shootout.
Colorado Springs and Nashville will take the ice on Saturday with each team hunting down its first win, while Carshield looks to derail Rocky Mountain and Everett tangles with Arizona as the teams chase down berths in the semi-finals.
16U Showcase Division
The 16U Showcase playoffs kicked off with a pair of shutouts, as Highland Park shut down Texas by a 4-0 margin and Anaheim downed the Chicago Hawks 2-0. Those two rank atop Division 4 with five and four points, respectively, while Orland Park tops Division 3 with six points and a pair of regulation wins. Chesterfield paces Division 2 after one day of action with five points, and the Chicago Bruins rebounded from an early upset loss to take over the lead in Division 1 with four points.
Each team in Division 1 took at least one win on Friday, as Wenatchee stunned the Bruins with a late comeback to eventually win in a shootout, Affton topped the Blues 3-1 on the back of 24 saves by Graham Gunn, the Blues, in turn, shook off Wenatchee with a 2-1 decision later in the day and the Bruins capped off the action by beating the Americans 4-1.
Chesterfield went top in Division 2 after slipping past West Dundee in overtime, thanks to Tommy Ramer's hat-trick, and dropping Vernon Hills 5-2 with two goals from Gage Vierzba. The Icedogs and Leafs both managed to finish Friday's action with three points, as Vernon Hills nabbed a 2-1 win over Ventura for its first win and West Dundee rode Ethan Chesney's two goals to snatch a 2-1 overtime win also over Ventura.
Division 3 action saw the Vikings and Naperville Sabres win twice on Friday, with Orland Park going just ahead by a single point. Ryan Onorati's hat-trick led the Sabres to a 4-0 shutout of Peoria early on before Kevin Reppar scored in OT to help Naperville win 2-1 over McKinney. Orland Park took wins over McKinney and Peoria as well, dropping both in regulation for six points. The two leaders are set to drop the puck against one another today to decide the division.
In addition to Highland Park and Anaheim, Geneva and the Chicago Hawks also won on Friday to all remain in striking distance of the top spot in Division 4. The Falcons and Ducks duked it out for first place after day one, which culminated in a thrilling, back-and-forth shootout between the two teams that went the way of Highland Park. The Cyclones earned points with a win over Texas, and the Hawks needed OT to break down Oakland in a 3-2 win later in the day.
18U Showcase Division
Each 18U Showcase team took the ice once on Friday — Anaheim, Geneva and Romeoville each took outright division leads with regulation wins over Highland Park, Mission Arizona and St. Mary's. Naperville and West Dundee share the Division 2 lead after regulation wins over McKinney and Fernie Academy.
Texas, Portland and the Chicago Blues each ran out victorious in overtime or shootout play on Friday to fall to second in their respective divisions. The Tigers notched a key win over the Chicago Hawks with Peyton Chapa's first goal of the season in extra time, the Winterhawks used two Bryce Miller goals to force a fourth period before Miller again found twine in the shootout in their win over the Bruins, and Tyler Maggio performed similar heroics for the Blues, scoring once in regulation and again in the shootout to see them through to a 3-2 win over Affton.
Each team will take the ice once more on both Saturday and Sunday to decide the semi-final participants.
High Performance/Elite Divisions
The NAPHL Tier 1 teams continued regular season play on day one of action in Troy, as the High Performance and Elite divisions jockey for final positioning before championship contests in February.
In 16U action, Colorado Springs starred with a pair of shutout wins over Thunder Bay and Pursuit of Excellence. Keaton French and Nicholas Junkin combined to stop all 52 shots against while Marc Fletemeyer scored in both contests. Thunder Bay, Nashville, POE and Florida each split their two Friday matchups. Clint Levens of Florida stood out with four goals in two outings, matching Landry Schmuck of Nashville's identical two-game output.
Shattuck St. Mary's and Wenatchee highlighted Friday's 18U play with two wins apiece. Jackson Tillinghast of the Wolves tallied twice in both contests to continue his standout campaign, while Shattuck relied on six different scorers in their win over Florida and OT victory over Arizona. Colorado Springs and Florida both bounced back from disappointing early losses in impressive fashion. The Tigers rebounded from a shutout loss to Wenatchee to blank Nashville 4-0, while the Alliance responded to their Shattuck loss to defeat POE 6-1 thanks to Jack Cohen's hat-trick.