Sioux Falls 16U head coach Needham hired by NHL's Maple Leafs
August 27, 2018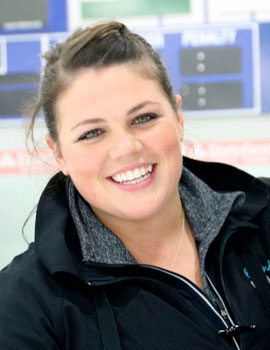 The Toronto Maple Leafs of the NHL announced that the hockey club has hired Noelle Needham as an Amateur Scout based in the Midwestern United States.
Needham joins the Maple Leafs as an amateur scout in the Midwestern United States region having spent the past nine years running Legend Hockey in Sioux Falls, South Dakota.
She is also the co-founder of the Sioux Falls Power Tier I hockey club, members of the North American Prospects Hockey League (NAPHL), which has teams ranging from the U14 to U18 levels. She is currently the head coach of the U16 team.
Needham played collegiate hockey at Minnesota State University, Mankato from 2004-07 following six years at Shattuck-St. Mary's Prep School in Faribault, Minnesota.
According to General Manager Kyle Dubas, the Leafs' decision to recently hire two women, which also included Hayley Wickenheiser, was more a function of hiring the best possible people, regardless of gender, and noted the Leafs already had a number of women on staff already that "play a large role in the organization."
"I just think the more diverse you can make your organization (the better) – and that's just not a male and female thing. We've got a fairly diverse group of people on our sports science side and other areas," said Dubas, in a conference call with reporters.
"Research shows the more diverse your organization the better your decision-making and the better your operation in general. If you're only hiring white males – and I'm saying that as a white male – you're probably leaving a lot of good people, in terms of what where your organization can go and how it can think and how it can evolve and develop.
"I don't think we've gone out and said, 'we want to hire females only, males only,' anything like that. We're looking for the best candidates. We're not pushing anybody aside – and I think sports in general are moving well in that direction. It's been great to see. Basketball's probably been by far the best with that. Baseball as well. I just think it's going to make sports and how they operate that much better as we all progress and move along."