NAPHL sees four alumni selected in 2018 NHL Draft
June 25, 2018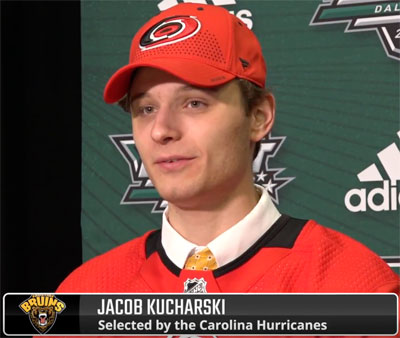 It was another big weekend for NAPHL alumni at the 2018 NHL Draft, which was held at the American Airlines Center in Dallas, Texas this past weekend on June 22-23.
The NAPHL is proud to announce that four alumni were selected in the annual draft, which was hosted by the NHL's Dallas Stars.
During the past six NHL Drafts a total of 27 NAPHL alumni have been selected.
The first NAPHL alum that was selected was forward Jasper Weatherby who was selected by the San Jose Sharks in Round 4, #102 overall. The North Dakota commit and native of Ashland, Oregon, played in the NAPHL for two seasons for the Omaha AAA 16U and 18U teams. In 35 career games, including playoffs, in the NAPHL from 2014-16, Weatherby (6'4/193) recorded 27 points. He also played in the 2016 NAPHL Top Prospects Tournament, which was held in Edina, Minnesota. The past two seasons, he has played for the Wenatchee Wild in the BCHL.
Five picks later, the next NAPHL alum went off the board as former Pursuit of Excellence goaltender Joel Hofer was selected by the St. Louis Blues in Round 4, #107 overall. The 6'3/191 lbs. native of Winnipeg, Manitoba, played two seasons in the NAPHL for the Pursuit of Excellence 16U and 18U teams. During the 2015-16 season, he posted a 2.92 goals against average and a .890 save percentage in 12 games for the 16U team and in 2016-17, he posted a 3.10 goals against average and a .883 save percentage for the 18U team. During the past 2017-18 season, Hofer played major junior hockey for the Swift Current Broncos in the WHL.
Former Everett Silvertips Elite defenseman Wyatte Wylie was selected by the Philadelphia Flyers in Round 5, #127 overall. The 6'1/185 lbs. native of Everett, Washington, played in the NAPHL during the 2014-15 season for the Everett 16U team. In 20 games, he recorded 10 points from the blueline. He has spent the past two seasons playing for the Everett Silvertips in the WHL.
The final NAPHL alum selected was goaltender Jake Kucharski, who was selected by the Carolina Hurricanes in Round 7, #197 overall. The 6'4/193 lbs. native of Erie, Pennsylvania, had climbed the ladder of development, which dates back all the way to the Esmark Stars 16U team of the NAPHL during the 2015-16 season. During that season, he posted a 1.77 goals against average and .917 save percentage in 14 NAPHL games. He then went onto the NAHL the following season in 2016-17 with the Austin Bruins. Kucharski played in 34 games and posted a goals against average of 3.31 and a save percentage of .894. This past season, he played for the Des Moines Buccaneers in the USHL. He is committed to play at Providence College during the 2019-20 season.