NAPHL teams compete in USA Hockey National Championships
April 11, 2017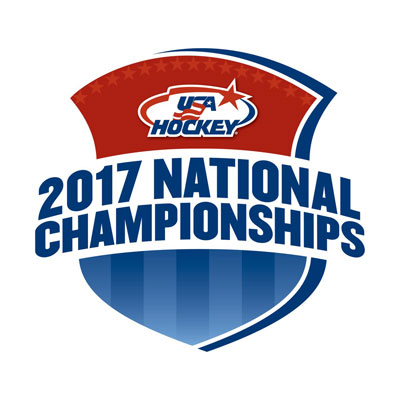 This past weekend, four NAPHL teams recently participated in the 2017 USA Hockey Tier I National Championships across various locations in the United States.
At the 15U National Championship in Scottsdale, Arizona, NAPHL regular season and playoff champion Washington Little Capitals were one of 16 teams at the event. The Little Caps were in the Liberty Pool along with the Colorado Evolution, Buffalo Jr. Sabres and Neponset Valley River Rats. In Game 1, the Little Caps dropped a 5-2 decision to the Evolution, who would eventually win the pool with a 3-0 record. In Game 2, it was a 3-1 loss to the Buffalo Jr. Sabres. On the final day, the Little Caps got their first win of the event with a 5-4 win over Neponset Valley. Adam Varga, who led the NAPHL 15U Division in scoring during both the regular season and playoffs, led the way with 4 points, while Reid Leibold had two goals. Goalie Connor Leslie played in two games and picked up the lone win.
In the 16U Division, two teams were represented in Pittsburgh, Pennsylvania, as the Tampa Scorpions and Omaha AAA were two of the 16 teams. The Scorpions went 0-2-1 in the Olympic Pool, which included three close losses to Shattuck-St. Mary's (5-3), Colorado Thunderbirds (4-3) and an overtime loss to the Cape Cod Whalers (8-7).
Omaha, who was an at-large invite at the event, faired much better as they won the NHL Pool with a 2-1 record. The first game was a 4-1 win over the Dallas Stars Elite. The second game was another 4-1 win over the host Pittsburgh Penguins Elite. With a spot in the Semi-Finals already clinched after the two wins, Omaha dropped their third round-robin game, 3-2 against the North Jersey Avalanche. In the National Semi-Finals, Omaha ran into a tough Shattuck-St. Mary's team and dropped a 4-1 decision. Colorado College commit and NAPHL leading scorer Sam Renlund led the team with nine points in four games played at the event.
In the 18U Division, also in Pittsburgh, Pennsylvania, the Tampa Scorpions 18U team finished with an 0-3 record in the Olympic Pool. After a 6-1 loss on the opening day to the North Jersey Avalanche, the Scorpions had close losses against both Culver Academy (4-2) and the Anaheim Jr. Ducks (5-4). Parker York and Nathan Smith led the way with four point each.
In addition, in the 14U Division of Nationals, both the Rocky Mountain RoughRiders and Washington Little Capitals, who played in various NAHL Future Prospect Tournaments throughout the 2016-17 season, both made the tournament and posted 0-3 records.
The NAPHL would like to congratulate all the teams on making it the 2017 USA Hockey National Championships on congratulate them on a successful season!