Johnstown defenseman Pilewicz makes NCAA DI commitment
April 7, 2017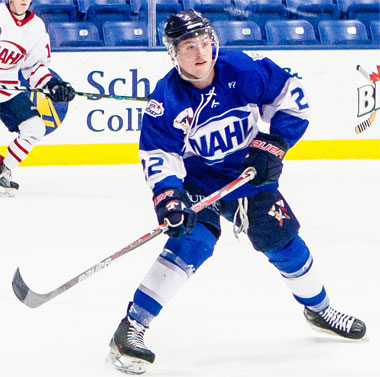 The Johnstown Tomahawks, members of the North American Hockey League (NAHL), are proud to announce that defenseman and assistant captain Adam Pilewicz announced his commitment to play NCAA Division I hockey at Penn State University beginning in 2017-18.
Pilewicz, 20, a native of Sewickley, Pennsylvania, has played 107 games for the Tomahawks, earning 43 points (nine goals, 34 assists) and was named assistant captain in September 2016.
He also represented the Tomahawks and the East Division at the 2017 NAHL Top Prospects Tournament.
"I grew up a Penn State fan and I can remember going to football games every Saturday," Pilewicz said. "I have spent a lot of time on the campus and I feel fortunate to be able to play hockey there and join my brother and sister at Penn State."
"This is an absolutely great day for the Tomahawks organization seeing Adam commit to Penn State," head coach Mike Letizia said. "He has been a vital part of our D group and our entire team over his two seasons in Johnstown. He has worked extremely hard to grow and mature his game since his rookie year and deserves the credit for the work he has willingly put in."
Pilewicz (6'1/200) is also an alumni of the NAPHL. During the 2012-13 season, he played for the Esmark Stars 16U team, appearing in 22 games and recording 20 points.
Located in State College, Pa., the Nittany Lions moved to Division I hockey for the 2012-13 season and recently played in the NCAA Division I Men's Hockey tournament, reaching the quarterfinals.
"Penn State was one of the top teams in all of college hockey this year and they should continue to only get better," Letizia said. "The fact that Adam will now be a part of that continued evolution and tradition is very exciting. I am proud of him for earning a fantastic opportunity and I couldn't be happier for him and his family."