NAPHL enters final days of games
January 8, 2017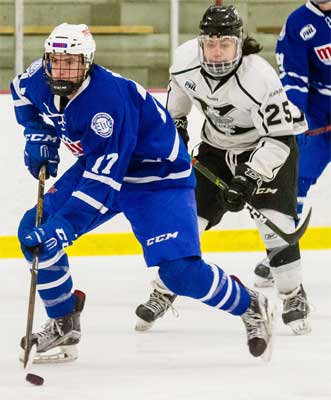 Through two days of the final NAPHL event in Troy, Michigan, the action has been intense and the competition at a very high level. All 18U and 16U teams play their final five games of the 2016-17 regular season at this weekend's event.
All NAPHL games at the event will be broadcast live over the Internet through
HockeyTV.
The final two days will decide not only who gets the #1 seed, but who will round out the 10 teams that will compete in the Gold Division.
As a reminder, the top 10 teams in the standings in both the 18U and 16U divisions at the end of the 22-game regular season qualify for the NAPHL Gold Division Championship in February. The remainder of the teams will play in the Silver (Consolation) Division Championship. Here are the tie-breaking policies as detailed in the NAPHL rules and regulations:
At the conclusion of the NAPHL regular season, Clubs that have an equal amount of points shall have their final position in the NAPHL standings determined by applying the following tie breaking procedures:
A. Most wins during the regular season.
B. Results of head to head competition.
C. Goal differential in head to head competition.
D. Total goal differential during the entire season.
E. Total goals scored during the entire season
F. Coin flip.
In the 18U Division, seven of the 10 teams have qualified for the Gold Division. That includes Rocky Mountain, St. Louis, Madison, Meijer, Omaha, Shattuck-St. Mary's and New Jersey.
In the 16U Division, eight of the 10 teams have qualified for the Gold Division. That includes Omaha, Esmark, Everett, Rocky Mountain, Meijer, New Jersey, St. Louis and Madison. Omaha has clinched the top spot.