Two events in the books for NAPHL teams
October 27, 2016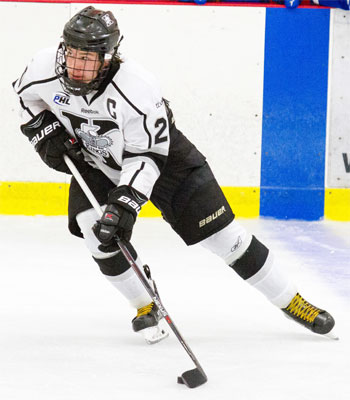 The second NAPHL event of the season is in the books and it was another great weekend of competition at the Schwan Super Rink in Blaine.
NAHL Central Scouting was on hand, evaluating the players and in addition, over 50 junior and college scouts also checked in.
The players and parents were also treated to the annual NCAA education and compliance seminar, run by NAHL Director of Player Personnel Craig Barnett.
Even though there have only been two events this season, a couple things have become clear. First, the league appears to have more parity than in seasons past. Next, there are some teams towards the top of the standings and currently in playoff positions that have not been there in the past.
Let's take a look at each division and how things went at the Blaine II event.
18U Division
At the top of the standings is the St. Louis Selects. After losing their opening game of the season, the Selects have won eight straight games, including all four during the last event in Blaine. St. Louis is the NAPHL's top offensive team, scoring 4.33 goals per game with Andy Willis leading the way with 15 points. Right behind St. Louis and having played one less game is New Jersey with a 7-1 record. The Jr. Titans have won five in a row. Gavin Gulash leads the way offensively with 13 points in 8 games. Two teams sit tied for 3rd place with identical 7-2-0 records as Rocky Mountain and Shattuck St. Mary's are off to good starts. The RoughRiders won all four games in Blaine and Shattuck went 3-1. In 5th place sits the Madison Capitols (6-3-0) and last year's runner-up Meijer AAA sits in 6th place with a 5-2-2 record, which included a 3-0-1 record in Blaine. Meijer defenseman Jared Kucharek is 2nd in the 18U Division with 11 points among all defensemen. With 11 points, HC Dallas sits in 7th place with a 4-2-3 record. There is a three-way tie for 8th place as Omaha, Valley Forge and Washington all sit bunched together with 5-4-0 records. In a tie for 11th place are the Northern Cyclones and Arizona Bobcats, who have 4-5-0 records. Rounding out the rest of the 18U Division is Pursuit of Excellence (6 pts.), Wenatchee and Thunder Bay (5 pts.), Esmark and Colorado Springs (4 pts.) and the California Titans, who are looking for their first win of the season.
16U Division
While things have changed at the top of the 18U Division, the 16U Division has a familiar face at the top of the table, the Omaha AAA Hockey Club. Omaha has a sizeable lead already in the standings with a perfect 5-0 record. Defenseman Colton Wilkie not only leads the team in scoring with 24 points, but the entire NAPHL as well. Forward Sam Renlund is right behind with 23 points. Behind Omaha is a pure dogfight for 2nd place between Esmark, New Jersey, Rocky Mountain and Madison who are all tied with 12 points. In a tie for 6th place with 5-3-1 records are the Thunder Bay Kings and perhaps the most improved team in the NAPHL, the Everett Jr. Silvertips. The Silvertips, who did not win a game last season, are well on their way to being in playoff position this season under new head coach Turner Stevenson. The Kings went 3-0-1 in Blaine and have not lost in regulation in their last five games. In 8th place, the St. Louis Selects and Meijer AAA are tied with 10 points and 5-4-0 records. Both teams are riding winning streaks heading into the next event in Colorado. The race for the 10th and final playoff spot is a tight one right now with Arizona, HC Dallas and Colorado Springs all tied with 8 points and 4-5-0 records. Behind those teams are Valley Forge, the Northern Cyclones, California, Washington and Pursuit of Excellence.
15U Division
The 15U Division debuted at this past weekend's event in Blaine and had some great competition. Among the nine teams, everyone won at least one game and just one team (Omaha AAA) remains unbeaten at the top of the standings with a perfect 5-0 record. After that, it is anyone's game as just four points separate the remaining eight teams. Washington is in 2nd place with a 3-2 record. Meijer AAA is in 3rd place with a 1-1-3 record and 5 points. Then, there are five teams log-jammed at 4 points and 2-3 records, which include Rocky Mountain, Arizona, Esmark, Colorado Springs and New Jersey. Rounding out the standings is the Northern Cyclones at 1-4. Washington forwards Adam Varga and Mac Robertson lead with way with 9 points each, followed by Omaha's Konner Lundeen and Colorado Springs forward Tylor Greene, who each have 8 points.