Future Prospects Tournament Champions crowned from October event
October 25, 2016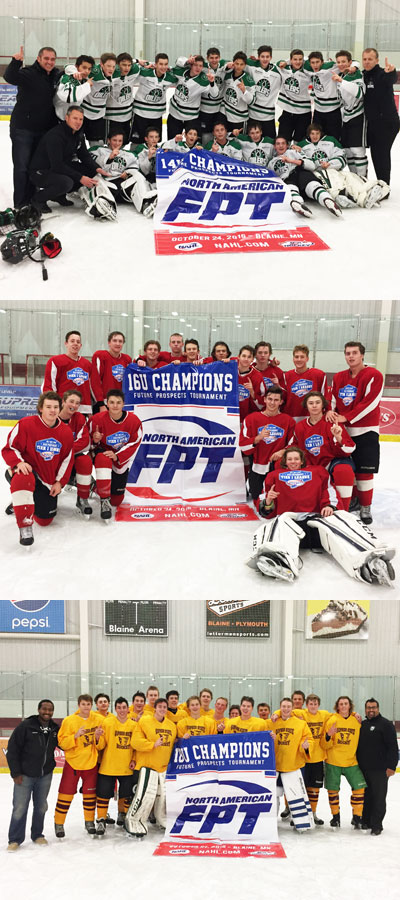 The first NAHL Future Prospects Tournament of the 2016-17 season concluded this past weekend at the Schwan Super Rink in Blaine, Minnesota.
Teams at the 18U, 16U and 14U levels competed in an invitational-style tournament consisting of a minimum of four games as the took part in the 'NAHL Experience.'
Player were not only greeted by the great atmosphere at the Schwan Super Rink, but they also received exposure to NAHL Central Scouting, as well as, over 50 college and junior scouts who attended the event.
Teams, players and parents also were part of the NCAA Compliance and Education seminar, which was held on Friday. Directed by NAHL Director of Player Personnel Craig Barnett, the Education and Compliance seminar covered several topics including the differences between NCAA Division I and III hockey, an introduction to the NCAA Eligibility Center and important soon-to-be changes, Academic requirements needed to compete at the NCAA level, and how the college recruiting process works.
Here is a recap of each of the divisions at the event:
14U Division – Champions: Alaska Oilers
The Alaska Oilers went a perfect 5-0 in the event, defeating the Thunder Bay Kings in the Championship game, 4-1. The top three scorers in the 14U Division were all from the Oilers. Leading the way was forward Hunter Strand, who led the event with an incredible 17 points. Strand had two of the four goals in the Championship Game and 11 of his 17 points at the event were goals. Right behind Strand were teammates Nicholas Ostbloom and Cameron Morris, who each had 12 points. Defenseman Trey Whitehead led all 14U defensemen at the event with six points. In goal, it was Madison's Hunter Beck who led the way with a 1.04 goals against average and 96% save percentage. He was followed by Omaha's Stephen Maslikowski and Thunder Bay's Jake Bacon. Thunder Bay, who lost in the finals, had a 3-1 record in the round-robin and had a balanced scoring attached with seven players with six points or more.
16U Division – Champions: MNEPDL Northwest
Like the Alaska Oilers in the 14U Division, MNEPDL Northwest went through the event a perfect 5-0 record and won with incredible team defense, allowing only four goals in the five games. Elk River junior Connor Bizal led the team in scoring during the event with nine points in five games. Forwards Derek Roberts, Jack Menne and Dylan Hoen all had eight points. Champlin Park High School goalie Brennan Boynton led the way in goal, playing in all five games and allowing just four goals, posting a .80 goals against average. MNEPDL Northwest beat MNEPDL West in the Championship Game, 6-2. MNEPDL West was led by Riley Enderle, Bennett Hawley and defenseman Fisher Eiss, who all had six points. The Minnesota Blades 15U team and Shattuck St. Mary's 16U team both finished with 3-1 records.
18U Division – Champions: Minnesota Gopher State Gold
It was a battle of the Gopher State teams in the Championship Game of the 18U Division as Gold completed a perfect 5-0 event with a close 2-1 win over Gopher State White, who finished with a 4-1 record. Three players tied for the scoring lead, which included Luke Posner and Matt Jennrich from Gopher State White and Aaron Myers from MNEPDL North, who all had 8 points. For the champion Gopher State Gold, Jared Konen, Mitchel Bentfield and Noah Smith had five points apiece. In goal, Drew Kleman had a perfect 4-0 record for Gopher State Gold, posting a 1.04 goals against average and 95% save percentage. Connor Olson from Fountain Valley School was 2-0 with a .50 goals against average and a 97.5% save percentage.
Congratulations to all the winning teams and players who participated!