NAPHL announces Top Prospects rosters and schedules
February 6, 2015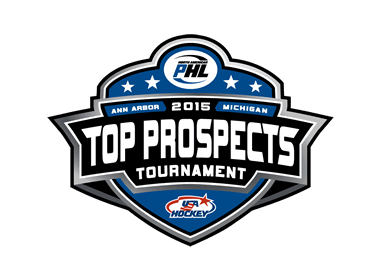 The North American Prospects Hockey League (NAPHL) has announced the rosters for the 2015 NAPHL Top Prospects Tournament, presented by Easton, which will be held from February 23-24 at the Ann Arbor Ice Cube in Ann Arbor, Michigan.
The event will be broadcast live on
FASTHockey
. For more information on the NAPHL Top Prospects Tournament, visit
www.nahl.com/tpt
The NAPHL Top Prospects Tournament is played in conjunction this season with the North American Hockey League's (NAHL) Top Prospects Tournament, along with the North American 3 Hockey League's (NA3HL) Top Prospects Tournament. The event has quickly become one of the most highly-scouted events of its kind, with hundreds of junior, NCAA and NHL expected in attendance this season. Combined with the NAHL and NA3HL Top Prospects Tournaments, it will make for an exciting week of hockey and provides a great opportunity for every scout and coach to get a close look the talent in the three leagues.
At the event, four teams representing four regions of the NAPHL – Central, East, Great Lakes and West - will each play three games. Each team consists of a 20-man roster (12 forwards, 6 defensemen and 2 goalies) as chosen by the NAPHL Top Prospects Tournament Selection Committee as nominated by the league's 16 head coaches. All the players in the NAPHL Top Prospects Tournament came from teams that played in the 18U Division this past season.
2015 NAPHL Top Prospects schedule:
Monday, February 23rd: Great Lakes vs. East, 8:30am; Central vs. West, 10:30am; East vs. Central, 6pm; West vs. Great Lakes, 8pm
Tuesday, February 24th: West vs. East, 8:30am; Central vs. Great Lakes, 9am