Previewing the NAPHL: Bauer-Emerson Revolution
September 2, 2014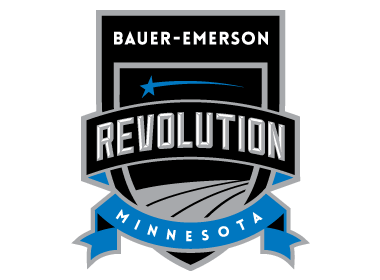 Over the course of the next two weeks, the North American Prospects Hockey League (NAPHL) is proud to feature a new series that will preview each of the 32 teams in the NAPHL for the 2014-15 season. Each day, leading all the way up to the first event of the season at the NAHL Showcase in Blaine, MN, the league will feature a different organization and take a look at both their 18U and 16U teams. There will be a review of last season and a look ahead to this season, which will include an interview with each of the team's head coaches.
Bauer Emerson 16U
New to the NAPHL landscape this season is Bauer Emerson Prep Academy, which is located in Saint Paul, Minnesota. They are set to begin their first season at the tier one level and in the NAPHL. Coaching their 16U team this year is Nick Klaren. Nick is looking forward to getting the season started and making his first season in the NAPHL a memorable one.
Nick had this to say about the upcoming season, "Being that this is our first year playing Tier 1 as an organization, our 16U program is very excited to be a part of the NAPHL. The league is a great representation of skill level and talent in Tier 1 hockey. The showcases will prove that the talent pool is very vast but very high, and I know it will be a bit of a challenge this year as we are coming in as a new program, but it is also exciting to know we will play against the top teams and talent this year."
Coach Klaren knows he is going to have a young team, but is expecting them to be a competitive and hard working team. "Our outlook this year is to be able to compete each and every game. We will be a pretty young team, but led by a very hard working team. Our roster right now set in stone, but looking brighter as the season is upon us. I know my roster; no mater who the players are will work hard every time they step on to the ice and in the weight room," said Klaren.
Klaren has been impressed with his roster so far and is expecting a few kids in particular to step up and be big components to his team. "Couple of my key players this year will include: Matthew Acers, Carter Jones, Tanner Tasler, Adam Weisberg, and Niko Castro," said Klaren.
Bauer Emerson 18U
Coaching the 18U Bauer Emerson team this season is Lee Goren. Lee brings a wealth of hockey knowledge to the program. He has played in the NHL for multiple seasons as well as won two NCAA national championships at the University of North Dakota. Lee is also the Vice President of Hockey Operations for Bauer Emerson Academy. Coach Goren is very excited about the opportunity that Bauer Emerson Academy can provide to young athletes.
"We received this opportunity from Minnesota Hockey just a few months ago, we are doing our best to educate the country about our program. It has been an adventure to put our teams together in such a short amount of time. As an organization we feel extremely confident in who we are and where we are going. We are excited to have the opportunity to play Tier 1 AAA hockey," said Goren.
Being a first year program one of the more difficult tasks for Bauer Emerson has been scheduling quality opponents at the tier one level. The news that they had been accepted into the NAPHL was very exciting for coach Goren.
"Joining the NAPHL gave us instant credibility as a program. To be able to attend the league events and play some of the top talent in the country is a real blessing for us. The league is run extremely professional, it is an honor to be apart of it," said coach Goren.
With the new season upon us coach Goren is pleased with the way his roster has shaped up this offseason. He is expecting them to be a very competitive team this season. "We are excited for this season to start. The ultimate goal for my team is to win every night but as a first year program that had very little time to prepare, I want us to be competitive every time we hit the ice. Some of my key players are Cory Sprague, Mark Sanchez, Korey Muzzy, Zach Lambrecht. We have five returning players from last years team that competed in the Minnesota High School Hockey League," said Goren.