NAPHL announces Top Prospect Tournament rosters and schedule
March 18, 2014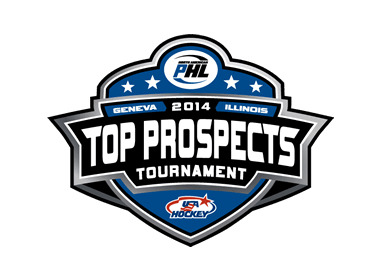 The North American Prospects Hockey League (NAPHL) has announced the rosters for the 2014 NAPHL Top Prospects Tournament, presented by Easton, which will be held from March 28-30 at the Fox Valley Ice Arena in Geneva, Illinois.
Team Great Lakes (Cleveland, Detroit, Lansing, West Michigan)
Team North (Esmark, New Jersey, Omaha, St. Louis)
Team South (Atlanta, Phoenix, Pikes Peak, Texas)
Team West (Anaheim, California, Pursuit of Excellence, San Jose)
The event will be broadcast live on FASTHockey. For more information on the NAPHL Top Prospects Tournament, visit www.naphl.com/tpt
The NAPHL Top Prospects Tournament is played in conjunction with the North American 3 Hockey League's (NA3HL) Silver Cup Tournament, which features each of the four divisional playoff champions from the NA3HL competing for the NA3HL playoff championship, as well as, two spots in the USA Hockey Tier III Junior National Championship.
The event has quickly become one of the most highly-scouted events of its kind, with a track record of dozens of junior and college scouts attending the combined event.
At the event, four teams representing four regions of the NAPHL – Great Lakes, North, South and West - will each play four games. Each team consists of a 20-man roster (12 forwards, 6 defensemen and 2 goalies) as chosen by the NAPHL Top Prospects Tournament Selection Committee as nominated by the league's 16 head coaches. All the players in the NAPHL Top Prospects Tournament came from teams that played in the 18U Division this past season.
2014 NAPHL Top Prospects Schedule:
Friday, March 28
12:00pm – Team Great Lakes vs. Team North
2:00pm – Team West vs. Team South
Saturday, March 29
8:30am – Team South vs. Team Great Lakes
10:30am – Team North vs. Team West
6:30pm – Team South vs. Team North
8:30pm – Team Great Lakes vs. Team West
Sunday, March 30
9:30am - 3rd place vs. 4th place
11:30am - 1st place vs. 2nd place